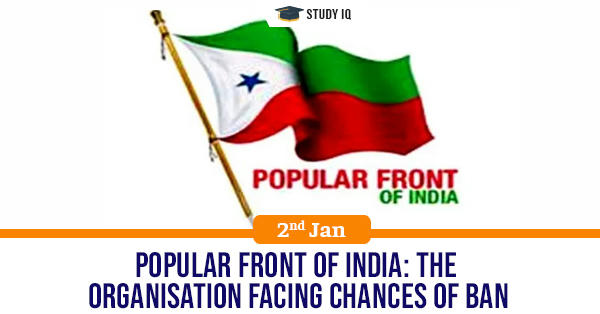 Popular Front of India: The organisation facing chances of ban
Date: 02 January 2020
Tags: Miscellaneous
Issue
The government in Uttar Pradesh has sent a report to the Ministry of Home Affairs (MHA) recommending a ban on the Popular Front of India (PFI).
Background
The government has accused the organisation and its political front, the Social Democratic Party of India (SDPI) of "masterminding and instigating violence" during the recent protests against the Citizenship (Amendment) Act (CAA) and the proposed National Register of Citizens (NRC).
Details
Government members said PFI was the "incarnation" of the Students Islamic Movement of India (SIMI) and the PFI's role has been established in vandalism in the state.

The organisation has been accused earlier of multiple violent and extremist incidents. Police in Kerala and Karnataka have found evidence of the use of lethal weapons in PFI centres.
PFI
The PFI was set up in 2006 as a federation of the National Development Fund (NDF), which was formed in Kerala in 1993 and subsequently emerged as the Manitha Neethi Pasarai (MNP) in Tamil Nadu and Karnataka Forum for Dignity (KFD) in Karnataka.

It calls itself a "socio-political movement that strives for the empowerment of the Muslims and other marginalised sections of society".
Students Islamic Movement of India (SIMI)
SIMI, which was formed in 1977, is banned under the Unlawful Activities (Prevention) Act, 1967. It is accused of standing for the propagation of Islamist jihad and the establishment of Islamic rule in India.
SDPI
SDPI is PFI's political front, founded, according to the organisation, for the "advancement and uniform development" of all citizens, including Muslims, Dalits, Backward classes and Adivasis.

SDPI was formed and declared in 2009, and was registered with the Election Commission of India in 2010.

The SDPI wants a complete revamp of the system. The SDPI claims to uphold values including national integration, communal amity, and social harmony.