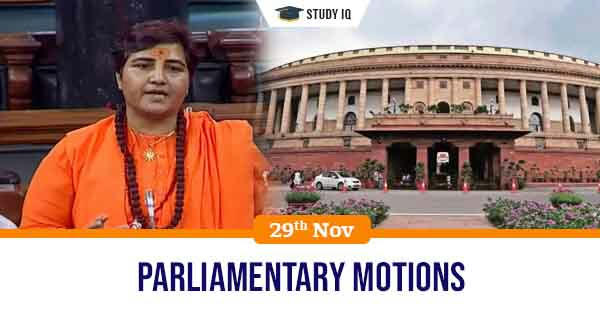 Parliamentary motions
Date: 29 November 2019
Tags: Miscellaneous
Issue
The Congress and other parties of the United Progressive Alliance (UPA) are set to move a censure motion in the Lok Sabha against MP Pragya Thakur for her remarks on Mahatma Gandhi's assassin Nathuram Godse.
Parliamentary Motions
In parliamentary procedure, a motion is a formal proposal by a member of a deliberative assembly that the assembly take certain action. Generally, a motion should be phrased in a way to take an action or express an opinion.
Different types of Parliamentary motions
Privilege Motion
A privileged motion is a motion that is granted precedence over ordinary business because it concerns matters of great importance or urgency. Such motions are not debatable, although in case of questions of privilege, the chair may feel the need to obtain relevant facts from members.

Censure Motion
A censure means an expression of strong disapproval or harsh criticism. It can be a stern rebuke by a legislature, generally opposition against the policies of Government or an individual minister. However, it can also be passed to criticise, condemn some act. A censure motion can be moved in lower house of the parliament or in a state assembly in India.
It is moved by opposition against a specific policy of government or against a minister or against the whole council of ministers.

Calling-Attention Motion
Calling attention is a type of motion introduced by a member to call the attention of a minister to a matter of urgent public importance. The minister is expected to make authoritative statement from him on that matter. It can be introduced in any house of the parliament.

Adjournment Motion
The primary object of an adjournment motion is to draw the attention of Lok Sabha to a recent matter of urgent public importance having serious consequences and in regard to which a motion or a resolution with proper notice will be too late.
Adjournment motion is allowed only in Lok Sabha (or in state legislative assembly) and not in Rajya Sabha (or in Legislative Council).

Conditions

Such a motion needs support of at least 50 members. It should be introduced on a matter of definite and urgent public importance. However, it should not cover more than one matter and be restricted to that matter only.

A question of privilege or any other questions which can be raised via other distinct motion cannot be raised in adjournment motion.

Cut Motions
After the budget is presented in Parliament and discussions over it are completed, the members get an opportunity to move cut motions to reduce the amount of budgetary grants. The members from particular parties or coalitions may bring their own cut motions.
Policy Cut


This type of cut motion aims that the amount of the demand be reduced to Re. 1. It represents the complete disapproval of policy underlying the demand.

Token Cut


This Cut Motion aims that the amount of the Demand be reduced by Rs. 100" in order to ventilate a specific grievance, which is within the sphere of responsibility of the government of India.

Economy cut


This type of cut motion aims that the amount of demand be reduced to certain other amount and it represents that the demand for grants should be altered.

No Confidence Motion
The constitutional provision behind this motion is Article 75, which says that "Council of Ministers shall be collectively responsible to the LokSabha". Thus, a council of ministers stays in office as long as it enjoys the confidence of majority of the members of Lok Sabha.

The motion has to be passed by simple majority. If passed, the Union Council of Ministers has to resign and government at centre falls.

No-confidence motion can be moved only in Lok Sabha (or state assembly as the case may be). It is not allowed in Rajya Sabha (or state legislative council).

It is moved against the entire Council of Ministers and not individual ministers or private members.

It needs support of at least 50 members when introduced in Lok Sabha.
Motion of Thanks
Motion of thanks is moved and voted in both houses parliament after the inaugural speech of the president at the beginning of first session of new Lok Sabha or the first session of a new year. This motion must be passed in both of the houses. A failure to get motion of thanks passed (which may happen rarely) amounts to defeat of government and leads to collapse of government.
Closure Motion
Closure is one of the means by which a debate may be brought to an end by a majority decision of the House, even though all Members wishing to speak have not done so.

No-Day-Yet-Named Motion
Any other parliamentary motion which has not yet been named.