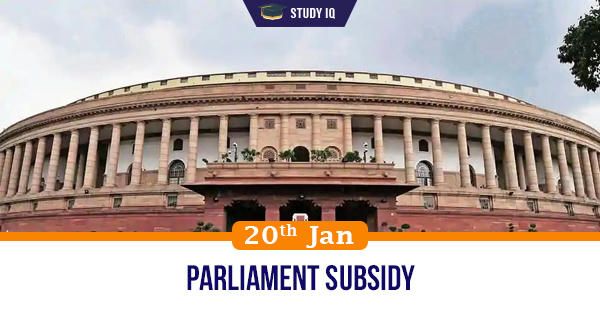 Parliament subsidy
Date: 20 January 2021
Tags: Miscellaneous
Issue
Food served in Parliament canteen is set to cost more as it will no longer be subsidised by the government.
Background
A major controversy over the subsidy had erupted in 2015, when a reply to an RTI query had revealed that the canteen got a subsidy of Rs 14 crore every year.
Details
The low rate of food in the Parliament canteen has often attracted controversy, with critics objecting to lawmakers enjoying a dirt-cheap meal at the taxpayers' expense.

Others have pointed out that the subsidy doesn't benefit just MPs, as a host of other Parliament staff and security personnel also take their meals at the canteen.
The subsidy
The Lok Sabha Secretariat could annually save more than Rs 8 crore with the subsidy coming to an end.

The Parliament canteen had for the past 52 years been run by Northern Railway and the annual revenue from Parliament catering was to the tune of Rs 15 to Rs 18 crore.

The Northern Railway would be paid whatever cost it incurred on running the canteen from the Ministry of Finance through Parliament.
Demand for removal
In the wake of the severe criticism following the RTI reply, then-BJD MP Baijyant Panda wrote to Lok Sabha Speaker Sumitra Mahajan, that the food subsidy extended to MPs be removed "to raise public trust in lawmakers".

Then in December 2019, with Om Birla as Lok Sabha Speaker, lawmakers "unanimously" decided to give up the subsidy.
Subsidy
A subsidy or government incentive is a form of financial aid or support extended to an economic sector generally with the aim of promoting economic and social policy.
Objectives of subsidy
Inducing higher consumption/ production

Offsetting market imperfections including internalisation of externalities;

Achievement of social policy objectives including redistribution of income, population control, etc.
Government subsidies
Food subsidy in form of Public Distribution System for poor sections.

Electric subsidies for economically poor sections as well as farmers.

Public irrigation subsidies for farmers.

Educational subsidies for socially and economically backward sections.

Health subsidies for women, children and economically poor sections of the society.