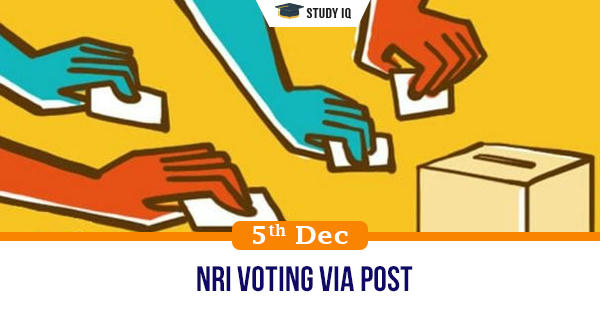 NRI voting via post
Date: 05 December 2020
Tags: Miscellaneous
Issue
Non-resident Indians (NRIs), who under the current election laws must cast their vote in person at their respective constituencies in India, may soon get to vote remotely from their country of residence.
Background
EC has been receiving several representations from the Indian diaspora to facilitate voting through postal ballot as visiting India to cast vote is a costly affair.
Details
Election Commission reportedly has suggested that NRIs be allowed to vote through electronically-transmitted postal ballot system (ETPBS).

It is a facility already extended to service voters that include members of the Armed forces and para-military forces and government employees serving abroad.

EC has proposed that necessary amendments be made in the Conduct of Election Rules, 1961, to enable the Indian diaspora to vote through postal ballot.

As per EC proposal, an NRI may be issued a postal ballot electronically after he intimates his wish to vote through Form 12 to the returning officer, which must be received at least five days after notification of election.

The duly filled up postal ballot which has to be attested by an officer appointed by the diplomatic or consular representative of India in the country where the overseas elector is resident.

It must be returned by post to the returning officer of the NRI's constituency in India such that it is received latest by 8 a.m. on the counting day.
NRI
Overseas Indians, officially known as non-resident Indians (NRIs) or persons of Indian origin (PIOs) are people of Indian birth, descent or origin who live outside the Republic of India.

The term non-resident refers only to the tax status of a citizen who, as per section 6 of the Income-tax Act of 1961, has not resided in India for a specified period for the purposes of the Income Tax Act.

For the purposes of the Income Tax Act, "residence in India" requires stay in India of at least 182 days in a financial year or 365 days spread out over four consecutive years and at least 60 days in that year.