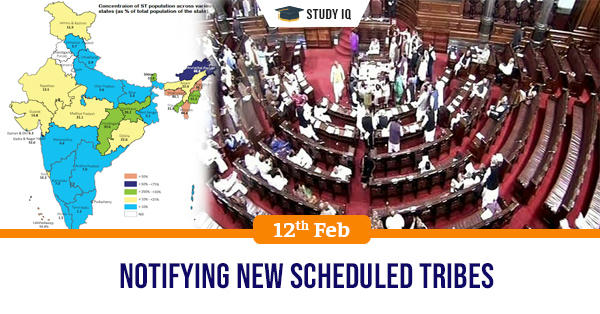 Notifying new Scheduled Tribes
Date: 12 February 2020
Tags: Miscellaneous
Issue
The Lok Sabha passed The Constitution (Scheduled Tribes) Order (Amendment) Bill, 2019 by voice vote. The Bill seeks to include the Parivara and the Talawara communities in the ST category to ensure they get reservation and other benefits provided by the government.
Background
The legislation had been brought in relation to one State and assured the members that the government would take cognizance of their demands.
Details
Article 342, prescribes procedure to be followed in the matter of specification of scheduled tribes.

The President may, with respect to any State or Union territory, and where it is a state, after consultation with the Governor there of by public notification, specify the tribes or tribal communities or parts of or groups within tribes or tribal communities which shall, for the purposes of this constitution, is deemed to be scheduled tribes in relation to that state or Union Territory, as the case may be.

Parliament may by law include in or exclude from the list of Scheduled tribes specified in a notification issued under clause(1) any tribe or tribal community or part of or group within any tribe or tribal community. These orders can be modified subsequently only through an Act of Parliament.

The list of Scheduled Tribes is State/UT specific and a community declared as a Scheduled Tribe in a State need not be so in another State.

The criteria presently followed for specification of a community as a Scheduled Tribe are : (i) indications of primitive traits, (ii) distinctive culture, (iii) geographical isolation, (iv) shyness of contact with the community at large, and (v) backwardness. However, these criteria are not spelt out in the Constitution.
Tribal population in India
The tribal population of the country, as per 2011 census, is 10.43 crore, constituting 8.6% of the total population. 89.97% of them live in rural areas and 10.03% in urban areas.

The decadal population growth of the tribal's from Census 2001 to 2011 has been 23.66% against the 17.69% of the entire population.

The sex ratio for the overall population is 940 females per 1000 males and that of Scheduled Tribes 990 females per thousand males.

Broadly the STs inhabit two distinct geographical area – the Central India and the North- Eastern Area. More than half of the Scheduled Tribe population is concentrated in Central India, i.e., Madhya Pradesh (14.69%), Chhattisgarh (7.5%), Jharkhand (8.29%), Andhra Pradesh (5.7%), Maharashtra (10.08%), Orissa (9.2%), Gujarat (8.55%) and Rajasthan (8.86%).

The other distinct area is the North East (Assam, Nagaland, Mizoram, Manipur, Meghalaya, Tripura, Sikkim and Arunachal Pradesh).

More than two-third of the ST population is concentrated only in the seven States of the country, viz. Madhya Pradesh, Maharashtra, Orissa, Gujarat, Rajasthan, Jharkhand and Chhattisgarh.

There is no ST population in 3 States (Delhi NCR, Punjab and Haryana) and 2 UTs (Puducherry and Chandigarh), as no Scheduled Tribe is notified.