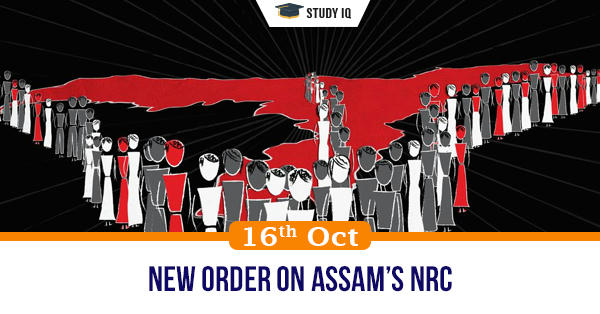 New order on Assam's NRC
Date: 16 October 2020
Tags: Miscellaneous
Issue
Earlier this week, the National Register of Citizens (NRC) authorities in Assam ordered the deletion of "ineligible" names that had erroneously made it into the prepared register.
Background
Foreigners Tribunals (FTs) are quasi judicial bodies meant to give opinion on whether a person is an "illegal foreigner" as per The Foreigners Act, 1946.
Details
As per the laws governing the preparation of the NRC, persons falling in the above categories cannot be included in the NRC.

One explanation that is offered is that such persons may have got their names included using fraudulent documents and by deceitful means.

The other reason that officials often cite is that there is no synchronised real time database, which reflects the status of a suspected 'foreigner' to the NRC officials.

The NRC process has hit a wall as of now since the rejection orders to the 19 lakh excluded persons, which will allow them to appeal against the exclusion in the Foreigners' Tribunals.

Officials have cited the Covid-19 pandemic as well as discrepancies in some rejection orders, which need to be re-checked, as reasons for the delay.
NRC
The National Register of Citizens (NRC) is a register of all Indian citizens whose creation is mandated by the 2003 amendment of the Citizenship Act, 1955.

Its purpose is to document all the legal citizens of India so that the illegal immigrants can be identified and deported.

It has been implemented for the state of Assam starting in 2013–2014.