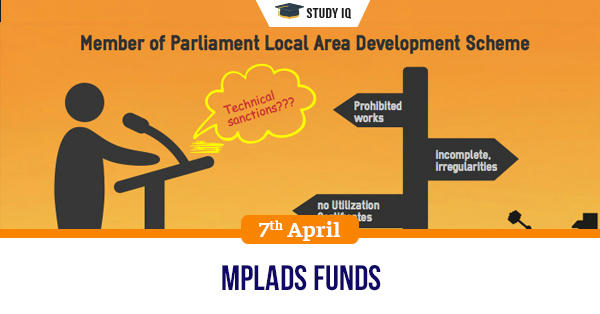 MPLADS funds
Date: 07 April 2020
Tags: Miscellaneous
Issue
The Union Cabinet has given its nod to the temporary suspension of MPLAD Funds during 2020-21 and 2021-22 in view of the adverse impact of the outbreak of COVID-19 in India.
Background
The Cabinet has approved an ordinance to reduce the salaries, allowances and pensions of Members of Parliament (MPs), including the Prime Minister, by 30 per cent for one year and the amount would be utilised in the fight against coronavirus.
Details
The Members of Parliament Local Area Development Scheme (MPLADS) is a programme first launched during the Narasimha Rao Government in 1993, aimed towards providing funds for developmental works recommended by individual MPs.

The MPs were entitled to recommend works to the tune of Rs 1 crore annually between 1994-95 and 1997-98, after which the annual entitlement was enhanced to Rs 2 crore.

The objective of the scheme is to enable MPs to recommend works of developmental nature with emphasis on the creation of durable community assets based on the locally felt needs to be taken up in their Constituencies.

Right from inception of the Scheme, durable assets of national priorities viz. drinking water, primary education, public health, sanitation and roads, etc. are being created.

The guidelines recommend MPs to suggest works costing at least 15 per cent of their MPLADS entitlement for the year for areas inhabited by Scheduled Caste population and 7.5 per cent for areas inhabited by ST population.

To implement their plans in an area, MPs have to recommend them to the District Authority of the respective Nodal District. The District Authorities then identify Implementing Agencies which execute the projects.

The guidelines lay down a number of development works, including construction of railway halt stations, providing financial assistance to recognised educational bodies, cooperative societies, bar associations, installing CCTV cameras, and rainwater harvesting systems.

The MPLADS funds can be merged with other schemes such as MGNREGA and Khelo India. MPLADS was held constitutionally valid by the Supreme Court in its May 6, 2010 judgement.