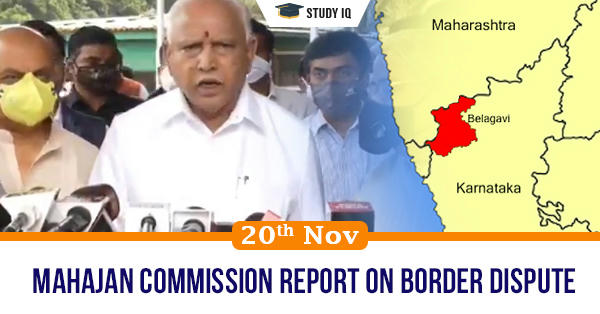 Mahajan Commission report on border dispute
Date: 20 November 2020
Tags: Miscellaneous
Issue
Karnataka Chief Minister B S Yediyurappa condemned comments by Maharashtra Deputy CM Ajit Pawar, over the border dispute between the two states.
Background
Pawar sparked a controversy, when he called the incorporation of Belgaum (Belagavi), Karwar and Nipani areas of Karnataka into Maharashtra a "dream" of Shiv Sena founder Balasaheb Thackeray.
Details
The erstwhile Bombay Presidency included the present-day Karnataka districts of Vijayapura, Belagavi, Dharwad, and Uttara-Kannada.

In 1948, the Belgaum municipality requested that the district, having a predominantly Marathi-speaking population, be incorporated into the proposed Maharashtra state.

However, the States Reorganisation Act of 1956, which divided states on linguistic and administrative lines, made Belgaum and 10 talukas of Bombay State a part of the then Mysore State.

In September 1957, the Bombay government lodged a protest with the Centre, leading to the formation of the Mahajan Commission under former Chief Justice Mehr Chand Mahajan in October 1966.
Mahajan report
The Commission recommended that 264 villages be transferred to Maharashtra (which formed in 1960) and that Belgaum and 247 villages remain with Karnataka. It also recommended that Kasargod of Kerala be transferred to Karnataka.

Maharashtra rejected the report, calling it biased and illogical, and demanded another review. Karnataka welcomed the report, and has ever since continued to press for implementation.

In 2004, the Maharashtra government moved the Supreme Court for a settlement of the border dispute under Article 131(b) of the Constitution. The case is pending in the apex court.