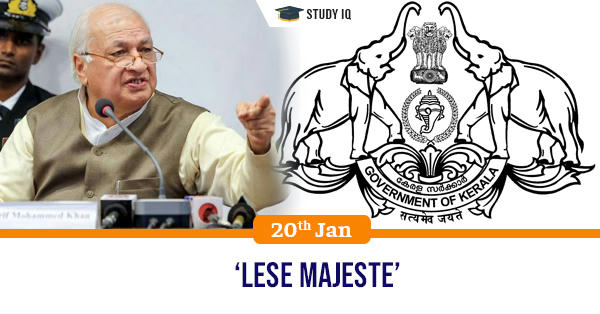 'Lese Majeste'
Date: 20 January 2020
Tags: Miscellaneous
Issue
Kerala Governor Arif Mohammad Khan invoked his authority to ask the executive to submit why it kept the Raj Bhavan in the dark about the move to appeal against the citizenship law in the Supreme Court.
Background
The governor pointed out in a letter to the Chief Secretary that the Chief Minister was duty-bound under the rules of business of the government to refer specified category of cases that concerned Centre-State relations or involved the Supreme Court to the Governor before the administration acted.
Details
The governor said that the government had crossed a line by not informing the constitutional head of State about its decision to challenge the Citizenship (Amendment) Act, a Central law, in the Supreme Court.

The State Law Minister contended the State was not in conflict with the Centre. Hence, there was no imperative to inform the Governor. The State had merely invoked the provisions of Article 131 of the Constitution to file a civil suit in the Supreme Court against the CAA.
Lese Mejestes
Lèse-majesté is a French term meaning "to do wrong to majesty" and is an offence against the dignity of a reigning sovereign or against a state.

Lèse-majeste is defined variously as "a crime against the sovereign", "offense against a ruler's dignity as head of the state", and "treason" has largely been relegated to history but for glaring examples such as Thailand, where its use is blamed for stifling dissent and for sending people behind bars for long years.

Under this law, social media use is also monitored, and posting content considered seditious, as well as pressing the "Like" button on Facebook on such content, has led to prison time.