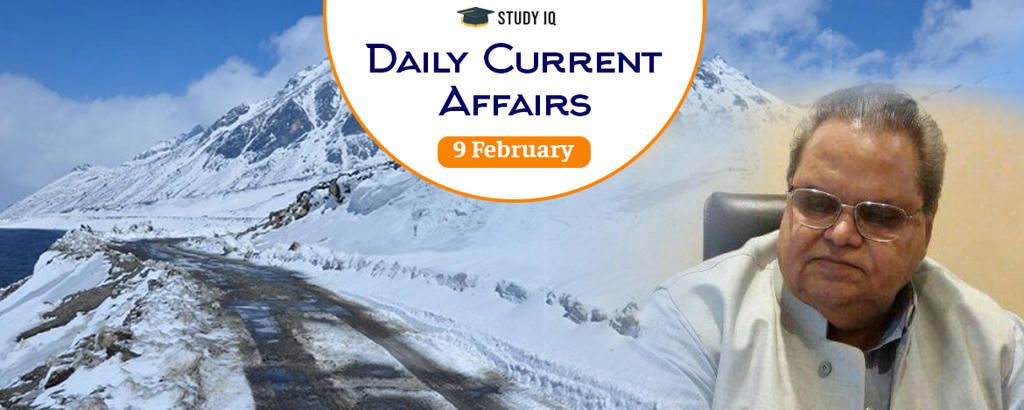 Ladakh region granted Divisional Status
Date: 09 February 2019
Tags: Miscellaneous
Jammu and Kashmir Governor Satya Pal Malik granted Divisional Status to Ladakh Region of the state. This was done by Governor by exercising his powers under Section 5 of Land Revenue Act, 1996. With this, Ladakh became third Division in state, other two being Jammu and Kashmir. Until now, Ladakh region was part of Kashmir Division.
Ladakh division
It will comprise Leh and Kargil districts with its headquarters at Leh. It will have full administrative and revenue division at par with Kashmir and Jammu divisions.

It will be biggest division in state with 86,909 sq. km of area, followed by Jammu division (26,293 sq km) and Kashmir Division (15,948 sq km- making it smallest among three).

It will now get is own Divisional Commissioner and Inspector General of Police (IGP) as state Government also approved creation of posts of Divisional Commissioner (Ladakh), Leh and IGP (Ladakh), Leh.

Currently Ladakh region has two Hill Councils for its administration viz. Leh and Kargil. These councils were recently empowered with financial and administrative powers with amendment in Act.
Significance of Divisional status
This decision goes long way in fulfilling the governance and development aspirations of the people of Ladakh region.

It will facilitate Ladakh region in great way to progress as offices and opportunities will be distributed to both districts of division

It will bring opportunities of employment of different levels in various departments for the locals.

It will further empower local administration as routine administrative clearances for Leh and Kargil districts now can be obtained at Divisional headquarters in Leh.

It is also considered as step ahead towards dream for Ladakh Region to get Union Territory Status. For almost last three decades, Ladakh region has been demanding for UT status with proper legislation.
Background
Ladakh is one of most sparsely populated regions in J&K. It is the highest plateau in state with most of its geographical area being over 9,800 feet above sea level.

It is geographically isolated with sparse population and inhospitable terrain which remains landlocked due to snow for nearly six months in a year (during winters).

It is also riddled with insurmountable problems with respect to delivery of developmental schemes, conduct of administrative affairs and governance and redressal of public grievances of people.

People of Ladakh have for long time been demanding effective local institutional arrangements which can help accelerate pace of development and equitable all-round growth and development as compared to other parts of states.