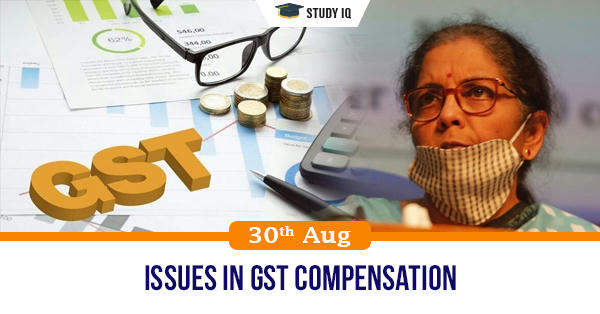 Issues in GST compensation
Date: 30 August 2020
Tags: Miscellaneous
Issue
Centre-state friction over pending compensation payments under the Goods and Services Tax (GST) is likely to strain state finances in near future.
Background
GST compensation payments to states have been pending since April, with the pending amount for April-July estimated at Rs 1.5 lakh crore. There is an estimated compensation shortfall of Rs 2.35 lakh crore.
Details
The first option was a special window to states to borrow the projected GST shortfall of Rs 97,000 crore, and an amount that can be repaid after five years of GST, ending June 2022, from the compensation cess fund.

The second option was to borrow the entire projected shortfall of Rs 2.35 lakh crore, both on account of faltering GST collections and the expected shortfall due to the pandemic, facilitated by the RBI.

States no longer possess taxation rights after most taxes, barring those on petroleum, alcohol, and stamp duty, were subsumed under GST.

GST accounts for almost 42% of states' own tax revenues, and tax revenues account for around 60% of states' total revenues.

Finances of over a dozen states are under severe strain, resulting in delays in salary payments and sharp cuts in capital expenditure outlays amid the pandemic-induced lockdowns and the need to spend on healthcare.

Shortfall issues surfaced almost a year ago when payments due for August-September 2019 were delayed. Since then, all subsequent payouts have seen cascading delays.

Under The GST (Compensation to States) Act, 2017, states are guaranteed compensation for loss of revenue on account of implementation of GST for a transition period of five years (2017-22).

The compensation is calculated based on the difference between the states' current GST revenue and the protected revenue after estimating an annualised 14% growth rate from the base year of 2015-16.

The high rate of 14%, which has compounded since 2015-16, has been seen as delinked from economic realities.