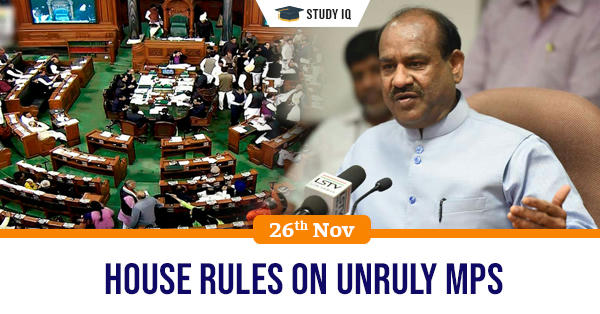 House rules on unruly MPs
Date: 26 November 2019
Tags: Miscellaneous
Issue
The suspension of two Congress members by Lok Sabha Speaker after unruly scenes in the House has brought back focus on the conduct of MPs, and related issues.
Background
Lok Sabha's Rules Committee had recommended automatic suspension of members who entered the well of the House or wilfully obstructed business by shouting slogans despite being repeatedly warned by the Chair.
Details
Rule 378 of the Rules for the Conduct of Business states: "The Speaker shall preserve order and shall have all powers necessary for the purpose of enforcing own decisions."

Rule 373 says: "The Speaker, if is of the opinion that the conduct of any member is grossly disorderly, may direct such member to withdraw immediately from the House, and any member so ordered to withdraw shall do so forthwith and shall remain absent during the remainder of the day's sitting.

"Rule 374 says:
The Speaker may, if deems it necessary, name a member who disregards the authority of the Chair or abuses the rules of the House by persistently and wilfully obstructing the business thereof.

If a member is so named by the Speaker, the Speaker shall, on a motion being made forthwith put the question that the member (naming such member) be suspended from the service of the House for a period not exceeding the remainder of the session: Provided that the House may, at any time, on a motion being made, resolve that such suspension be terminated.

A member suspended under this rule shall forthwith withdraw from the precincts of the House.