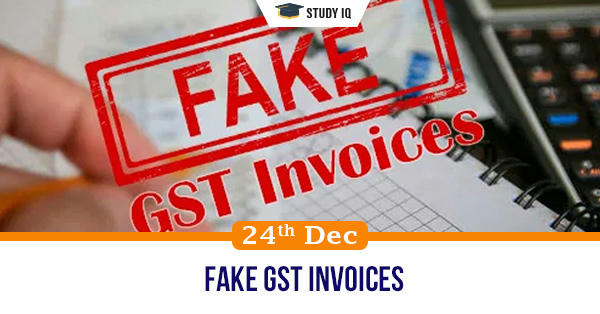 Fake GST invoices
Date: 24 December 2020
Tags: Miscellaneous
Issue
The Directorate General of Goods and Services Tax Intelligence (DGGSTI) across the country has arrested people for illegally availing or passing on input tax credit (ITC) by using fake GST invoices, and causing loss to the exchequer.
Background
The use of fake invoices to wrongfully avail ITC credit has been gradually increasing and has become a concern for the government.
Details
GST invoice is a business instrument issued by a supplier or a seller to the recipient or the buyer of goods and services.

Such a document indicates the names of the parties involved as well as the details of goods or services supplied under a given transaction.

Fraudsters have been found to have floated multiple dummy firms, obtained GST registrations, issued fake GST invoices of goods and services without actual supply of services.

They passed on ineligible ITC accrued from the bogus invoices to clients for a commission, who subsequently used it to make GST payments.

The tax department has found that promoters of certain companies have routed fake invoices through a series of shell companies and transferred input tax credit from one company to another in circular transactions to increase the turnover of the company.

Fake invoices only helps evade GST on taxable output supplies by availing undue ITC and converting excess ITC into cash but also helps in inflating turnover using these invoices, booking fake purchases to evade income tax, diversion of funds and money laundering.
Reason for increase in fake invoices
One of the primary reasons for an increase in companies availing ITC fraudulently is the lack of due diligence during the GST registration.

The process of registration was made easy and hassle free by the government so that businesses could be easily on-boarded to the system.

Lack of data exchange among the enforcement agencies and banks have also led to increase in fraud cases.
Preventive measures
The government is planning to tighten the GST registration process and legal measures to deal with the rising cases of fake invoicing.