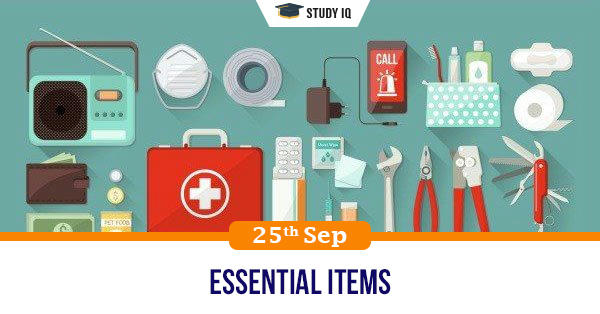 Essential items
Date: 25 September 2020
Tags: Miscellaneous
Issue
Rajya Sabha has passed the Essential Commodities (Amendment) Bill, 2020 which is aimed at deregulating commodities such as cereals, pulses, oilseeds, edible oils, onion and potatoes.
Background
The Bill had been introduced and passed in Lok Sabha last week. It replaces an ordinance that the government had promulgated on June 5, along with two other ordinances on the farm sector.
Details
After the amendment, the supply of certain foodstuffs — including cereals, pulses, oilseeds, edible oils, potato — can be regulated only under extraordinary circumstances, which include an extraordinary price rise, war, famine, and natural calamity of a severe nature.

In effect, the amendment takes these items out from the purview of Section 3(1), which gives powers to central government to "control production, supply, distribution, etc, of essential commodities".

There is no specific definition of essential commodities in the Essential Commodities Act, 1955. Section 2(A) states that an "essential commodity" means a commodity specified in the Schedule of the Act.

The Act gives powers to the central government to add or remove a commodity in the Schedule. The Centre, if it is satisfied that it is necessary to do so in public interest, can notify an item as essential, in consultation with state governments.

The Schedule at present contains seven commodities — drugs; fertilisers, whether inorganic, organic or mixed; foodstuffs including edible oils; hank yarn made wholly from cotton; petroleum and petroleum products; raw jute and jute textiles; seeds of food-crops and seeds of fruits and vegetables, seeds of cattle fodder, jute seed, cotton seed.

By declaring a commodity as essential, the government can control the production, supply, and distribution of that commodity, and impose a stock limit.

The key changes seek to free agricultural markets from the limitations imposed by permits and mandis that were originally designed for an era of scarcity.

The move is expected to attract private investment in the value chain of commodities removed from the list of essentials, such as cereals, pulses, oilseeds, edible oils, onions and potatoes.

The private sector had so far hesitated about investing in cold chains and storage facilities for perishable items as most of these commodities were under the ambit of the EC Act, and could attract sudden stock limits. The amendment seeks to address such concerns.