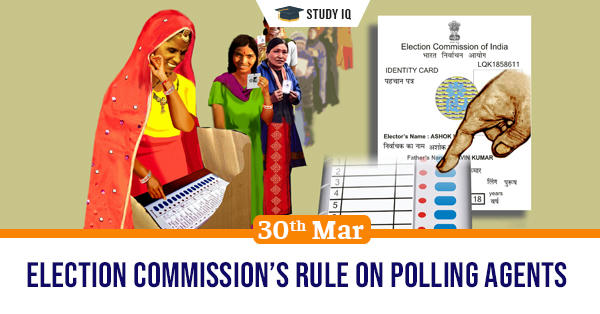 Election Commission's rule on polling agents
Date: 30 March 2021
Tags: Miscellaneous
Issue
The Election Commission of India has decided to make changes for appointing polling agents in electoral booths across West Bengal.
Background
Before, the polling agents were supposed to be a voter of the booth or an adjoining booth that he/she is working at.
Details
The new changes state that a political party can now select a polling agent for any booth within the assembly segment he/she is a voter from.

The Trinamool Congress has opposed the move and alleged biasness against Election Commission. The BJP, however, has welcomed the move.
Polling agent
A polling agent is a representative appointed by a political party to be present at every polling booth on the day of the elections.

This is because the candidate cannot be present across all booths and these agents will keep an eye on voting process.
Functions
The polling agent should be aware of the rules and procedures to conduct elections using EVMs and VVPATs.

They will have to attend demonstrations arranged by the Returning Officer to become familiar with the functioning and operation of these machines.
Criticism
The ruling party, TMC has alleged that BJP does not have enough strength to appoint polling agents and have been given benefit through this move.

The Election Commission says that because of Covid-19 protocols, it has become difficult to convince people to sit in polling booths for long time and the rules were changed to adjust.