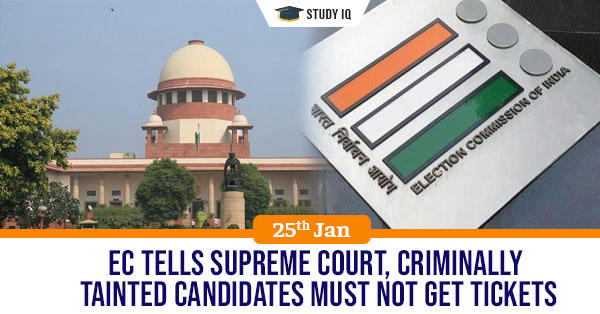 EC tells Supreme Court, criminally tainted candidates must not get tickets
Date: 25 January 2020
Tags: Miscellaneous
Issue
The Supreme Court has agreed to examine a proposition made by the Election Commission (EC) to ask political parties to not give ticket to those with criminal antecedents.
Background
The Supreme Court's long string of judgments against criminalisation of politics has hardly scratched the surface of the deep rot.
Details
A previous judgment had urged Parliament to bring a "strong law" to cleanse political parties of leaders facing trial for serious crimes.

The court had suggested that Parliament frame a law that makes it obligatory for political parties to remove leaders charged with "heinous and grievous" crimes like rape, murder and kidnapping, only to a name a few, and refuse ticket to offenders in both parliamentary and Assembly polls.
Grounds for disqualification
Parliament has the power to make a law in respect to the issue of qualification and disqualification of the membership in case:
He holds any office of profit under the Government of India or of any state, other than an office declared by a law of Parliament not to disqualify its holder.

He is of unsound mind and stand so declared by a competent court.

He is an undischarged insolvent.

He is not a citizen of India or has voluntarily acquired the citizenship of a foreign state, or is under any acknowledgement or allegiance or adherence to a foreign state, and

It is he so disqualified by or under any law of Parliament. It applies to the case of 'defection' as prescribed in tenth schedule.
Any dispute about the disqualification of a Member of Parliament shall be referred to the President, who will take a decision on the advice of the Election Commission and decision shall be final according to the article 103.

In case of disqualification on grounds of defection, the matter will be decided by speaker or chairman or Rajya Sabha as the case may be.

The representation of people act, 1951 also lays down certain conditions for disqualification of MPs and MLAs.
They are as follows:
He must not have been convicted by a court of any offence and sentenced to imprisonment for a period of more than two years.

He must not have been found guilty by a court or on election tribunal of certain election or corrupt practices in the elections.

He must not have been dismissed for corruption or disloyalty from government services.

He must not have failed to lodge on his election expenses within time and in a manner prescribed by law.

He must not have any interest in government contracts, execution of government work or services.

He must not be a director or managing agent nor hold an office of profit under any corporation in which the government has any financial interest.