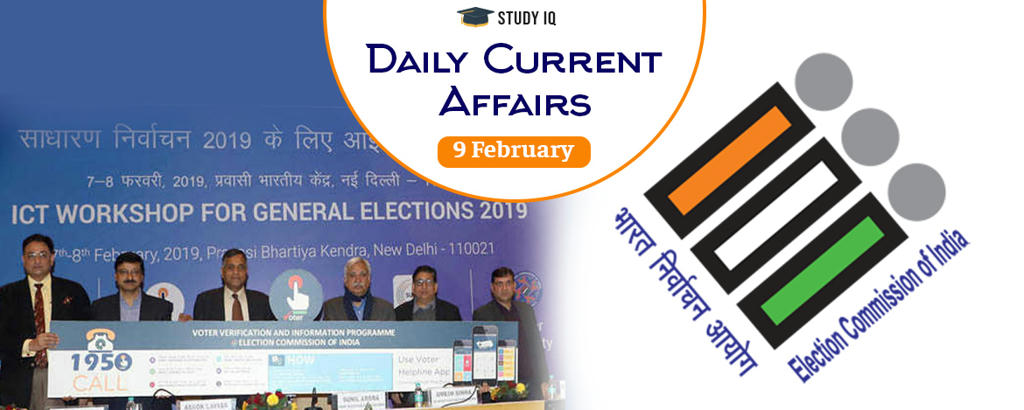 EC launches Voter Verification and Information Programme
Date: 09 February 2019
Tags: Miscellaneous
Election Commission of India (ECI) launched Voter Verification and Information Programme (VVIP) for the upcoming General (Lok Sabhe) Elections 2019 due in April-May. It will enable citizens to verify their names, new registrations, changes in voter details and corrections in Voter Id Cards.
Voter Verification and Information Programme (VVIP)
It was launched along with Voter Helpline appand PwD Appduring 2-day intensive Training-cum-Workshop on use of Information & Communication Technology for conduct of 2019Elections.

The services for this VVIP programme can be availed by voters through various channels including voter helpline mobile application and voter helpline number 1950.

ECI also has also set up Contact centers in all districts across India, which are equipped with latest information and telecom infrastructure to help callers.
Various mobile apps launched by ECI
Voter Helpline app
It will provide convenience to all citizens for finding their names in electoral roll, submitting online forms, checking status of application, filing complaints and receiving reply on their mobile app.

It also has all forms, results, candidate affidavits, press notes, voter awareness and important instructions on it.
PwD App
It aims to enable Persons with Disabilities (PwDs) to request for new registration, change in address, change in particulars and mark themselves as PwD through use of mobile application.

PwDs are assigned Booth Level Officerto provide doorstep facility by simply entering their contact details. They can also request for a wheelchair during polling.
cVIGIL app
It provides time-stamped, evidence based proof of Model Code of Conduct(MCC)/ Expenditure Violation. It has live photo/video with auto location data.

Using it, any citizen can lodge complaint against violation of MCC. Based on this complaint, flying Squads will investigate matter and returning officer takefinal decision.

It has facility to keep cVIGIL complainant updated with status of complainant within specified time-limit.