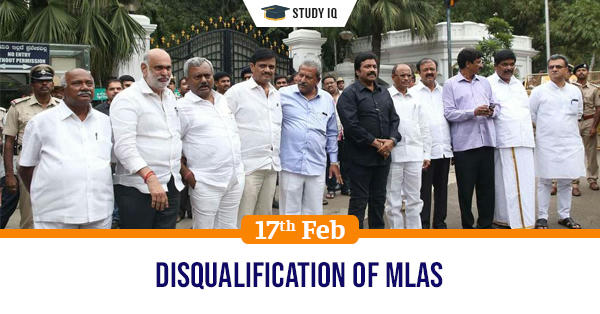 Disqualification of MLAs
Date: 17 February 2021
Tags: Miscellaneous
Issue
The Kohima bench of Guwahati High Court has refused to stay the disqualification of seven Nagaland MLAs.
Background
The disqualification sought to prevent such political defections as well as actions which may be due to reward of office or other similar considerations.
Details
Anti-defection law
The Tenth Schedule was inserted in the Constitution in 1985. It lays down the process by which legislators may be disqualified on grounds of defection by the Presiding officer of a legislature based on a petition by any other member of the House.

A legislator is deemed to have defected if he either voluntarily gives up the membership of his party or disobeys the directives of the party leadership on a vote.

This implies that a legislator defying (abstaining or voting against) the party whip on any issue can lose his membership of the House. The law applies to both Parliament and state assemblies.

The law allows a party to merge with or into another party provided that at least two-thirds of its legislators are in favour of the merger.

In such a scenario, neither the members who decide to merge, nor the ones who stay with the original party will face disqualification.

The law initially stated that the decision of the Presiding Officer is not subject to judicial review. This condition was struck down by the Supreme Court in 1992.
Disqualifications under Representation of People's Act, 1951
A person found guilty of any of the following shall be disqualified for a period of 6 years to contest elections after release from jail

Promoting hatred and enmity between classes

Influencing elections

Bribery

Rape or other grave crimes against women

Spreading religious disharmony

Practising untouchability

Importing or exporting prohibited goods

Seling or consuming illegal drugs as well as other chemicals

Engaging in terrorism in any form

Have been imprisoned for at least two years

The candidate can also be disqualified if he/she has engaged in any corrupt practice or excluded for related government contracts.

Disqualification can also result if the candidate fails to declare his/her assets.