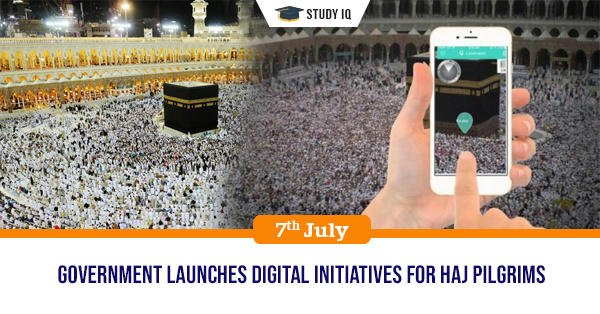 Government launches digital initiatives for Haj Pilgrims
Date: 07 July 2019
Tags: Miscellaneous
Indian Haj mission in Saudi Arabia has adopted digital technology to reach out to large number of pilgrims as part of Union Government's Digital India initiative. This move is aimed at forming bridge with the pilgrims to facilitate smooth and hassle-free Haj operation and also receive grievances and feedbacks to improve the service.
Digital Initiatives are
Indian Haj Information System App: It has been developed by consulate to receive feedback, a grievance from Hajis. Currently, it receives feedback in English, Hindi and Urdu. Other regional languages will be incorporated later. The app also connects with pilgrims to Haj service coordinators known as Qadimul Hajjaj of their respective states. Qadimul Hajjaj are government employees who are deputed to assist pilgrims during Haj season.
e-MASIHA: It helps to store health status and medical history of visiting pilgrims. e-MASIHA stands for Medical Assistance System for Indian Hajis Abroad. It will help to retrieve pilgrims' health information to apply appropriate treatment whenever he or she visits Indian medical facilities during Haj.