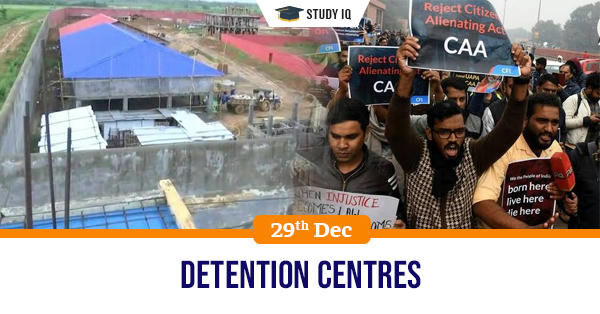 Detention centres
Date: 29 December 2019
Tags: Miscellaneous
Issue
After the Citizenship (Amendment) Act, 2019 was passed on December 11, there are fears that those excluded from NPR-NRC will be sent to detention centres.
Background
The Centre has the power to deport foreign nationals staying illegally in the country under Section 3(2)(c) of The Foreigners Act, 1946. State governments have also been entrusted under Article 258(1) of the Constitution to take similar steps.
Details
In 1998, the MHA under had written a letter to all States and Union Territories asking them to restrict the movement of convicted foreign nationals who had completed their jail sentence.

The letter said that they be confined to one of the detention centres/camps, pending confirmation of their nationality from the country concerned and to ensure their physical availability at all times for expeditious repatriation/deportation as soon as the travel documents are ready.

The centres are also used to hold foreigners who have been caught overstaying their visa term.

States were asked by the MHA to set up sufficient number of detention centres where the suspected illegal immigrants would be detained pending their deportation.
Detention centres
Detention centres are residential bildings meant to hold foreigners either staying illegally in the country or who have completed sentence and waiting for deportation.
Issues
Most of the existing detention centres are ill managed leading to worse living conditions. This has made them susceptible for spread of diseases.
All memebers of a family are not kept at a single centre leading to seperation of children from their parents.
Slow resolution of the case
The case of individuals kept in detention centres linger on for many years leading to accumulation of detenees.