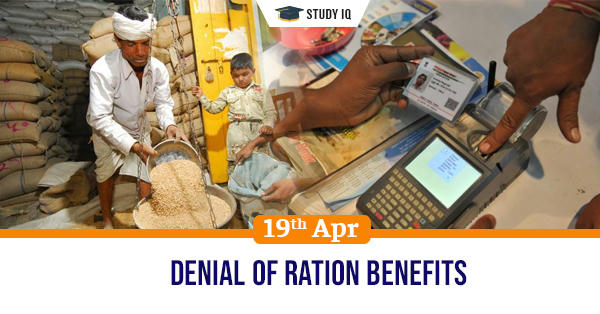 Denial of ration benefits
Date: 19 April 2021
Tags: Miscellaneous
Issue
The Supreme Court has asked centre to respond to allegations that non Aadhar linkage and biometric authentication has led to denial of ration.
Background
Ration card implementation has been made digital so that they can monitor fake ones and prevent leakage of subsidies.
Details
A study conducted to identify if such an incident was true had mixed responses. About 28% of the respondents agree that such incidence of denial indeed took place.

There have been reports that people's fingerprints are not getting confirmed by the e-PoS device at the ration shop since Aadhaar-based biometric authentication was implemented.

Other issues include iris scanners not being set up as a back-up to failure of fingerprint authenticator.

The frequency of such incidents may be low but it is significant because ration cards are for a full family and many people will be denied food if such incidents occur.

Such incidents are common in both villages and cities alike. The bigger cities are better off as they have superior digital infrastructure.

The poorest of households, whose monthly income is below Rs 2000, were at the wrong end of the system due to technical failure.

The states of Bihar, Madhya Pradesh, Rajasthan, Uttar Pradesh, Jharkhand, Uttarakhand and Chhattisgarh were the major hit as more than 40% of respondents were affected. Across the rest of the country only about 20% were affected.
Reasons
Poor internet signal in interior regions of the country has been observed to be a major reason or failed authentication of Aadhar and ration card.

The problem does not lie due to non-possession of Aadhar cards but due to server issues as well as technical failure.