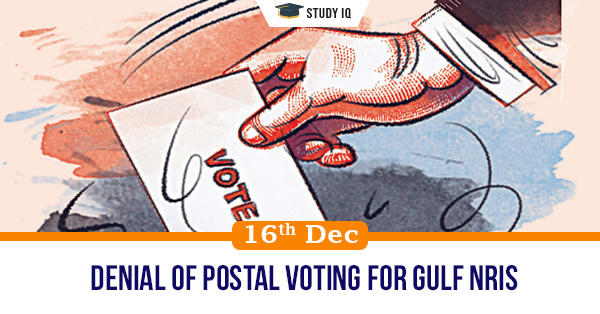 Denial of postal voting for Gulf NRIs
Date: 16 December 2020
Tags: Miscellaneous
Issue
The Election Commission (EC) has indicated the introduction of postal voting for non-Gulf NRIs on a pilot basis.
Background
The proposal may get implemented first for voters based in the United States, Canada, New Zealand, Japan, Australia, Germany, France, and South Africa.
Details
The MEA has in the past expressed strong reservations over allowing voting for Indian citizens living in non-democratic nations.

Holding a democratic exercise, involving voters queuing outside Indian Missions and Embassies, in non-democratic countries will require permissions, and the host nation may not approve.
NRI numbers
According to a UN report of 2015, India's diaspora population is the largest in the world at 16 million people.

Out of 1.18 lakh NRI voters, the largest numbers are registered to vote in Kerala. The second-largest cohort (roughly 7,500) are registered in Andhra Pradesh, followed by Maharashtra (5,500 approx), Karnataka (4,500 approx), Tamil Nadu (3,200), and Telangana (2,500).
Method for voting
Any NRI interested in voting through the postal ballot in an election will have to inform the Returning Officer (RO) not later than five days after the notification of the election. On receiving such information, the RO will dispatch the ballot paper electronically.

A designated officer in the Indian mission will download the ballot paper on the voter's behalf, and hand it over to the overseas elector.

The overseas elector can then mark her preference at the mission, get the self-declaration form attested by the designated officer, and hand back the ballot paper and declaration form in a sealed envelope to the mission. It will then be returned back to the election officer concerned.
NRI
Overseas Indians, officially known as non-resident Indians or persons of Indian origin, are people of Indian birth, descent or origin who live outside the Republic of India.

A Non Resident Indian (NRI) is an Indian Citizen who resides in India for less than one hundred & eighty two days during the course of the preceding financial year.