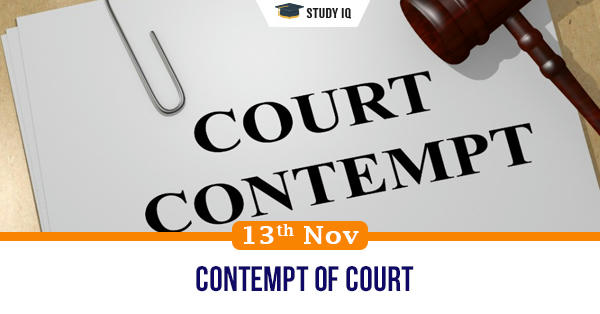 Contempt of court
Date: 13 November 2020
Tags: Miscellaneous
Issue
Attorney General K K Venugopal gave his consent for the initiation of criminal contempt proceedings against stand-up comedian Kunal Kamra for his tweets on Supreme Court.
Background
The petitioner has requested the consent of the Attorney General for initiating contempt proceedings against the accused.
Details
According to the Contempt of Courts Act, 1971, contempt of court can either be civil contempt or criminal contempt.

Civil contempt means wilful disobedience of any judgment, decree, direction, order, writ or other process of a court, or wilful breach of an undertaking given to a court.

Criminal contempt, on the other hand, is attracted by the publication (whether by words, spoken or written, or by signs, or by visible representations, or otherwise) of any matter or the doing of any other act whatsoever which:

scandalises or tends to scandalise, or lowers or tends to lower the authority of, any court; or

prejudices, or interferes or tends to interfere with, the due course of any judicial proceeding; or

interferes or tends to interfere with, or obstructs or tends to obstruct, the administration of justice in any other manner.
Need for AG's consent for contempt initiation
Subsection 1 of Section 15 (Cognizance of criminal contempt in other cases) of The Contempt of Courts Act, 1971 reads:

In the case of a criminal contempt, other than a contempt referred to in Section 14 ("Procedure where contempt is in the face of the Supreme Court or a High Court"), the Supreme Court or the High Court may take action on its own motion or on a motion made by (a) the Advocate-General, or (b) any other person, with the consent in writing of the Advocate-General.

Persons accused of contempt have the right to be heard in their defence and courts can hear evidence regarding the case as well. Detention in custody is permissible during a trial for contempt.
Punishment
According to the Act, contempt of court may be punished with simple imprisonment for a term which may extend to six months, or with fine which may extend to two thousand rupees, or with both, provided that the accused may be discharged or the punishment awarded may be remitted on apology being made to the satisfaction of the court.