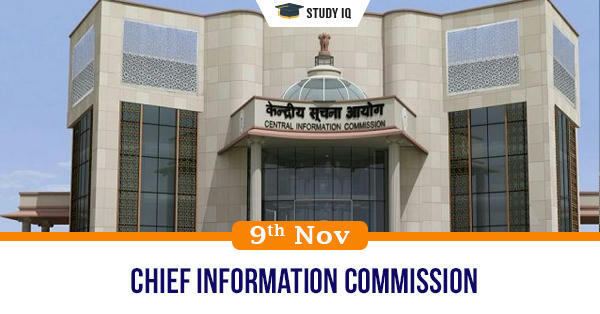 Chief Information Commission
Date: 09 November 2020
Tags: Miscellaneous
Issue
Yashvardhan Kumar Sinha has been sworn in as the new Chief Information Commissioner of India by the President.
Details
The Chief Information Commission (CIC) is a statutory body in India to act upon complaints received from individuals who have been unable to submit requests of information to a Central or State Public Information Officer under the Right to Information Act (RTI Act).

The CIC was constituted with effect from 12th October 2005 under the RTI Act 2005. Its jurisdiction extends upon all central public authorities.
Composition and appointment
The CIC is headed by the Chief Information Commissioner. He/she is assisted by ten Information Commissioners. The Chief Information Commissioner holds the office for five years. They shall not be eligible for re-appointment.

The salaries and allowances payable to and other terms and conditions of service of the Chief Information Commissioner shall be the same as that of the Chief Election Commissioner.

The commissioners are appointed by the President of India on the recommendation of a committee comprising of: Prime Minister (Chairperson), Leader of the Opposition in the Lok Sabha, and a Union Cabinet Minister nominated by the PM.
Functions
The commission can order inquiry into any matter if there are reasonable grounds.

The commission has the power to secure compliance of its decisions from the public authority.

The commission may recommend steps which ought to be taken for promoting such conformity, if public authority does not conform to the provisions of this act.

It is the duty of the commission to receive and inquire into a complaint from any person:

Who has not received response to his information request within the specified time limits;

Who thinks information given is incomplete, misleading or false and any other matter relating to obtaining information.

Who has not been able to submit an information request because of non-appointment of a Public Information Officer;

Who thinks the fees charged are unreasonable;

Who has refused information that was requested.

During the inquiry of a complaint, the commission may examine any record which is under the control of the public authority and no such record may be withheld from it on any grounds.

While inquiring, the commission has the powers of a civil court

The commission submits an annual report to the central government on the implementation of the provisions of this act. The central government places this report before each house of Parliament.