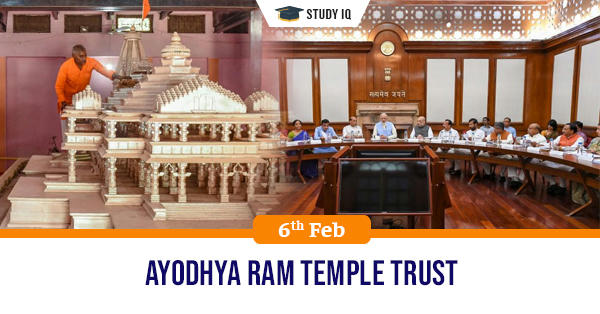 Ayodhya Ram Temple Trust
Date: 06 February 2020
Tags: Miscellaneous
Issue
The Union Cabinet has cleared the formation of a Trust for the construction of Ram temple in Ayodhya. The Trust, which is called the Shri Ram Janmbhoomi Teerth Kshetra, will include 15 members, of which one will be a Dalit.
Background
The Supreme Court had allowed the construction of a Ram temple at the site of the demolished Babri Masjid in Ayodhya, and ordered handing over another 5-acre plot to the Uttar Pradesh Sunni Waqf Board for the mosque.
Details
One of the five suits before the court in the Babri Masjid case was in the name of the deity itself, Sri Ram Lalla Virajman, and of the birthplace, Asthan Shri Ram Janmabhoomi.

This suit was founded on the claim that the law recognises both the idol and the birthplace as juridical entities. The court did not accept the Janmasthan as a juridical entity.

It awarded the title of the land to Ram Lalla, to be held by the Trust that the Court said should be set up within three months. This Trust is the Shri Ram Janmbhoomi Teerth Kshetra.

The Court had said that the scheme to be framed by the Centre should make necessary provisions about the functioning of the Trust or the body, including on matters relating to its management, the powers of the trustees including the construction of a temple and all necessary, incidental and supplemental matters.

Trust will get the possession of the inner and outer courtyards along with the rest of the acquired land, which will be managed and developed by the Shri Ram Janmbhoomi Teerth Kshetra.

The court used its powers under Article 142 to direct that appropriate representation may be given in the Trust to the Nirmohi Akhara.