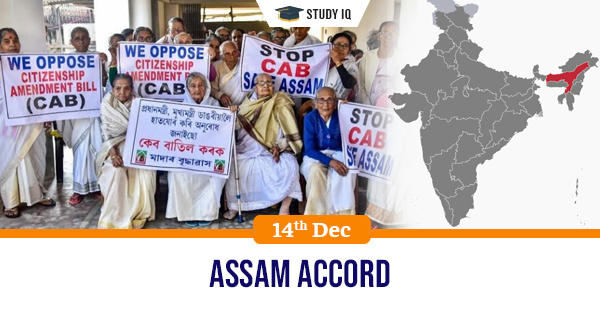 Assam accord
Date: 14 December 2019
Tags: Miscellaneous
Issue
The debate on the Citizenship Amendment Bill (CAB) passed by Parliament has repeatedly flagged the alleged violation of the Assam Accord by the new law.
Background
The Assam Accord was a Memorandum of Settlement signed by the Governments of India and Assam, and the All Assam Students' Union (AASU) and the All Assam Gana Sangram Parishad (AAGSP) in New Delhi on August 15, 1985.
Details
At the heart of the Accord was the "Foreigners Issue" and "Safeguards and Economic Development". There were some "Other Issues" and a section on "Restoration of Normalcy".

The Home Ministry was the nodal Ministry for the implementation of the Accord. In 1986, a new Department was set up in the Government of Assam, called "Implementation of Assam Accord Department", to implement the various clauses of the Memorandum of Settlement.

It was agreed that "for purposes of detection and deletion of foreigners, 1.1.1966 shall be the base data and year", and that "all persons who came to Assam prior to 1.1.1966, including those amongst them whose names appeared on the electoral rolls used in 1967 elections shall be regularised".

Foreigners who "came to Assam after 1.1.1966 (inclusive) and upto 24th March, 1971 shall be detected in accordance with the provisions of The Foreigners Act, 1946, and The Foreigners (Tribunals) Order, 1964", and their names "will be deleted from the electoral rolls in force".

While, "On the expiry of a period of ten years following the date of detection, the names of all such persons which have been deleted from the electoral rolls shall be restored", "all persons who were expelled earlier, but have since reentered illegally into Assam shall be expelled".
Clause 6
It reads,"Constitutional, legislative and administrative safeguards, as may be appropriate shall be provided to protect, preserve and promote the culture, social, linguistic identity and heritage of the Assamese people."
Importance
The Assam Accord brought closure to a phase of great violence and anxiety in the modern history of Assam. The agitation was led by the youth, who saw a direct threat to their future from the illegal influx of foreigners into the state.

The government of Assam describes the Assam movement as "historic", and "one of the famous movements in post-colonial India mainly led by students of Assam".