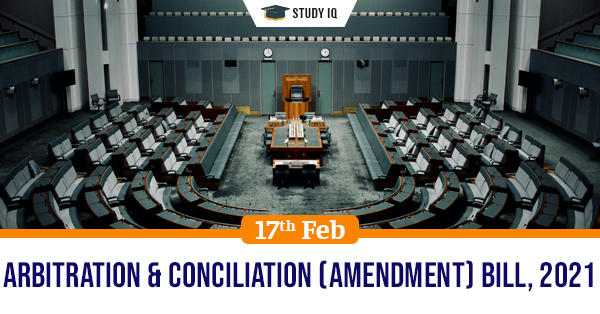 Arbitration & Conciliation (Amendment) Bill, 2021
Date: 17 February 2021
Tags: Miscellaneous
Issue
The Lok Sabha has passed a bill to amend the arbitration law to ensure that all stakeholders get an opportunity to seek unconditional stay on enforcement of arbitral awards.
Background
The Bill replaces an Ordinance with the same provisions promulgated on 4th November last year.
Details
The bill amends the Arbitration and Conciliation Act, 1996, seeks to do away with the 8th Schedule of the Act which contained the necessary qualifications for accreditation of arbitrators.

The qualifications for accreditation of arbitrators are proposed to be prescribed by regulations to be framed by an arbitration council to be set up.

An arbitration award was enforceable even if an appeal was filed against it in the court under Section 36 of the law. But the court could grant a stay on the award on conditions as it deemed fit.
Amendments to the law
As per the proposed amendment, if the award is being given on the basis of an agreement based on fraud or corruption, then the court will not impose a condition to stay the award and grant an unconditional stay during the pendency of the appeal if it has been challenged under Section 34 of the arbitration law.
Arbitration
Arbitration is a private process where disputing parties agree that one or several individuals can make a decision about the dispute after receiving evidence and hearing arguments. Arbitration is different from mediation because the neutral arbitrator has the authority to make a decision about the dispute.