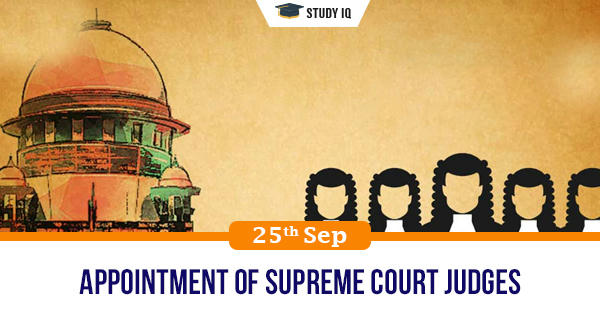 Appointment of Supreme court judges
Date: 25 September 2020
Tags: Miscellaneous
Issue
As the US Presidential election approaches, Republicans and Democrats are in a tussle regarding filling up of the Supreme Court seat, vacated by the death of Ruth Bader Ginsburg.
Background
The polarising debate has dominated headlines, with Republicans hurrying to push through their nominee at the last moment, and livid Democrats claiming breach of precedent.
Details
Federal and state courts in the US are separate, and the 9-member US Supreme Court is the apex forum of the federal system. State systems have their own top courts, and are typically called State Supreme Courts.

In India, judges have a fixed retirement age – 65 for the Supreme Court and 62 for High Courts. In the US, federal judges can serve for life– their terms only ending if they resign, pass away or if they are impeached and convicted by Congress.

The US Constitution lays down no requirements for Supreme Court justices. Although the 9-member Bench typically consists of previous circuit court judges, it has included in its ranks distinguished lawyers, law professors, even politicians.
Appointment of SC judges in India
Every Judge of the Supreme Court shall be appointed by the President by warrant under his/her hand and seal after consultation with such of the Judges of the Supreme Court and of the High Court in the States as President may deem necessary for the purpose and shall hold office until he attains the age of 65 years.
Eligibility
The Indian Constitution says in Article 124 [3] that in order to be appointed as a judge in the Supreme Court of India, the person has to fit in the following criteria:
He/She is a citizen of India and

has been for at least five years a Judge of a High Court or of two or more such Courts in succession; or

has been for at least ten years an advocate of a High Court or of two or more such Courts in succession; or

is, in the opinion of the President, a distinguished jurist.
Important features
Once appointed, the judges can hold office until the complete 65 years. They cannot be removed during their tenure except on proved misbehaviour or incapacity.

The procedure for removal is too difficult. The motion has to be passed by a majority of the total members of both houses of Parliament and two-thirds of the members present and voting.

The salaries of the Judges and the administrative expenses of the Supreme Court are charged on the Consolidated Fund of India [CFI] and are not subjected to the vote of Parliament.

Judges of the Supreme Court cannot plead or act in any court or before any authority within the territory of India after retirement.