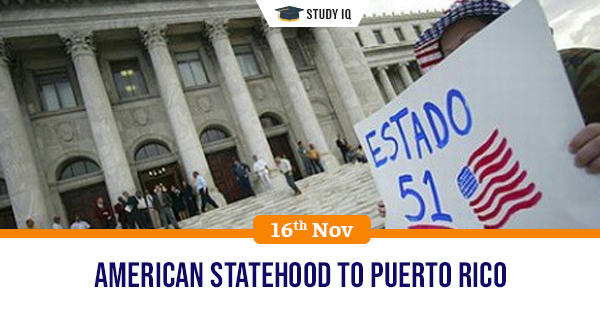 American statehood to Puerto Rico
Date: 16 November 2020
Tags: Miscellaneous
Issue
The United States territory of Puerto Rico has voted in favour of statehood, and thus be treated at par with the current 50 states of the country.
Background
Puerto Rico is currently given a commonwealth under the US flag. They do not have the right as other states of the federation.
Details
While Democrats have generally been more open to the idea of admitting the two entities as states, Republican party remains firmly opposed to any such proposition.

The referendums in themselves have no power to change Puerto Rico's status. They are non-binding, meaning their verdicts have no power to compel the US Congress to act in any way.

For both Puerto Rico and D.C. statehood to succeed, both chambers of Congress (House and Senate) would have to support the initiative, which would then require the approval of the US President.
Puerto Rico
The Spanish-speaking Island is located in the Caribbean Sea, about 1,600 km southeast of the US state of Florida.

Since its discovery by the explorer Christopher Columbus in 1493, Puerto Rico was a part of the Spanish Empire for over 4 centuries until 1898, when it was annexed by the United States.

In 1917, Puerto Ricans were granted US citizenship, but the island itself was never made a full state, and continues to remain a "US territory", along with Guam, North Mariana Islands, American Samoa, and the US Virgin Islands.

Like its counterparts, Puerto Rico gets only one member in the House of Representatives, the lower chamber of the US Congress– but who has no voting power. Puerto Ricans also cannot vote in US presidential elections.
Statehood gaining in India
The constitutional power to create new states and union territories in India is solely reserved to the Parliament of India.

Parliament can do so by announcing new states/union territories, separating territory from an existing state or merging two or more states/union territories or parts of them.

President refers the bill to the State Assembly for its views giving it a certain period of time. Parliament is not obligated to follow on the views of State Assembly.

If the State Assembly does not express its opinion within the specified period of time, the bill could be introduced in the Parliament after the expiry of the specified period.

Article 3 of Indian Constitution addresses the topic of 'Formation of new States and alteration of areas, boundaries or names of existing States'.

It says, Parliament may by law:
form a new State by separation of territory from any State or by uniting two or more States or parts of States or by uniting any territory to a part of any State;

increase the area of any State;

diminish the area of any State;

alter the boundaries of any State;

alter the name of any State;