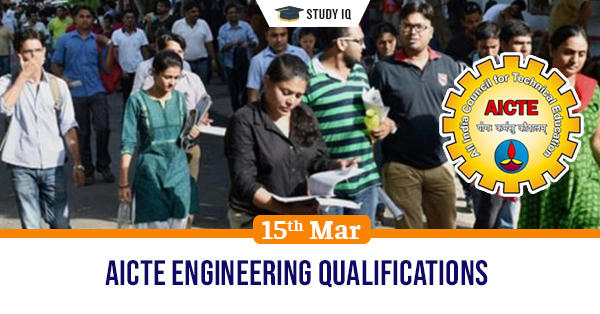 AICTE engineering qualifications
Date: 15 March 2021
Tags: Miscellaneous
Issue
All Indian Council For Technical Education (AICTE) has introduced new changes to the entry-level qualifications for engineering programmes.
Details
This year's AICTE handbook brings a change in the eligibility criteria for admission to the four-year B.Tech and B.E. programmes.
Previous norms
A student pursuing engineering should have passed high school with Physics and Mathematics as compulsory subjects.

The third subject could have been one from a list of 11 subjects including Chemistry, Biotechnology, Biology, Computer Science, Information Technology, Informatics Practices etc.

A general category candidate should have secured at least 45% overall in the three subjects.
New changes
An aspirant is expected to have scored at least 45% in any three subjects out of the list of 14 provided in the new handbook, which are Physics, Mathematics, Chemistry, Computer Science, Electronics, Information Technology, Biology, Informatics Practices, Biotechnology, Technical Vocational subject, Engineering Graphics, Business Studies and Entrepreneurship.

The changes will put onus on engineering institutes for specifying if students need to compulsory study Maths and Physics or other subjects are enough.

The engineering institutes can offer bridge courses to students in case they have not studied Physics or Mathematics in pre-university.
AICTE
The AICTE is the standard-setting body for technical education in India. It brings out an 'Approval Process Handbook' (or APH) that introduces basic norms for recognising new technical education institutes, new programmes, and entry-level qualifications for admission to degree and diploma programmes.