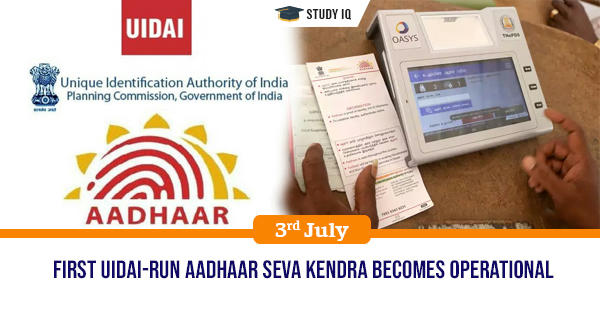 First UIDAI-run Aadhaar Seva Kendra becomes operational
Date: 03 July 2019
Tags: Miscellaneous
Unique Identification Authority of India (UIDAI) has operationalised its first Aadhaar Seva Kendras (ASK) in Delhi and Vijayawada (Andhra Pradesh). UIDAI has set ambitious plan of setting up 114 'Aadhaar Seva Kendras' across the country by the end of 2019.
Aadhaar Seva Kendras (ASK)
These centres will beowned and operated by UIDAI (Unique Identification Authority of India), the governmental body that issues Aadhaar.

It will facilitate enrolment, updation and other activities related to 12-digit unique identification number or Aadhar in addition to the existing centres that assist with the same services.

It will be similar to concept of Passport Seva Kendras (PSKs) and will cover 53 cities at an estimated projected cost of Rs 300-400 crore.

This centre is intended to handle large number of Aadhaar related requests on a daily basis like updation and enrolment.

It will also allow people to book slots online as per their convenience through the appointment management system.
Unique Identification Authority of India (UIDAI): It is nodal statutory organization behind Aadhaar, a 12 digit unique number. It was made statutory body by Parliament through adhaar (Targeted Delivery of Financial and Other Subsidies, Benefits and Services) Act, 2016.
Aadhaar: It is 10 digit number is linked with individual's demographic and biometric information, which serves as an authentication tool throughout India. Using it, Central and State Governments are trying to link many of their major development and subsidy schemes to reduce leakages and duplication.