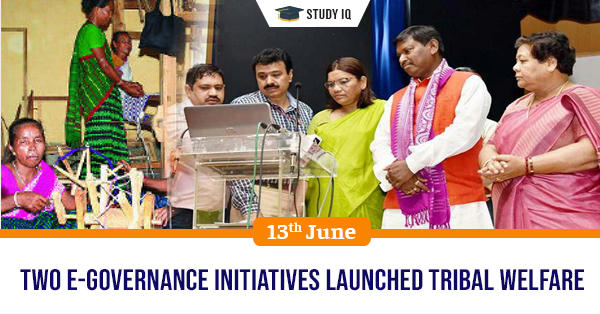 Two e-governance initiatives launched tribal welfare
Date: 13 June 2019
Tags: Ministries & Departments
Union Ministry of Tribal Affairs launched launched e-governance initiatives for welfare schemes for scheduled tribes in the form of two digital portals. They are DBT Tribal portal NGO Grants Online Application and Tracking System. The initiatives for implementation of welfare schemes for scheduled tribes (STs) under the purview of e-governance will help to greater efficiency and transparency.
DBT Tribal web portal
It aims to streamline and expedite the process of releasing scholarship grants directly into bank accounts of beneficiary students.

It will provide single common platform to states to upload data related to beneficiaries, raise queries and give feedback.

It has uniform 29-column data sharing format, related to personal and location details of beneficiaries.

It is linked with Aadhaar and the Public Financial Management System, thus help to reduce the chances of duplication of beneficiary and manipulation.

It is also expected to help States share beneficiary data with the tribal affairs ministry through web services.
NGO Grants Online Application and Tracking System
It has been developed for implementing schemes of aid to voluntary organisations working for tribal welfare.

It fully revamps and simplifies the process as it is automated system and enables NGOs to simply follow specified steps to access grants.