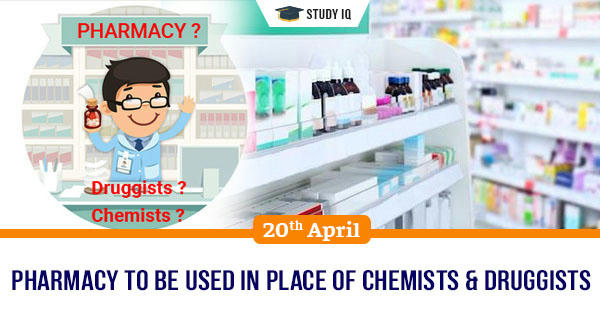 Pharmacy to be used in place of chemists & druggists
Date: 20 April 2019
Tags: Ministries & Departments
Drug Technical Advisory Board (DTAB) has given its in principal nod to replace words "Chemists & Druggists" by "Pharmacy" to bring uniformity to medical store signboards. In this regard, it has approved to amend Rule 65(15)(b) and Rule 65(15)(c). The change was deliberated and recommended by 55th Drug Consultative Committee meeting held in January and March 2019. The changes will come into force after final approval from Union Home Ministry.
Background
Under Drugs and Cosmetics Rules, description "chemists and druggists" is displayed by licencees who employ registered pharmacists but do not have pharmacy for compounding-preparing personalised medication for patients against prescriptions.
The terms "pharmacy", "pharmacist", "dispensing chemist" or "pharmaceutical chemist" can be used only by licencees who employ services of registered pharmacist and run pharmacy for compounding against prescription.
Registered pharmacists no longer practise compounding of medicines because the pharmaceutical industry sells formulations in different dosages and potencies. "There was need for this [renaming] as the concept of druggists is outdated.
Reason for change
It will bring uniformity of pharmacy stores as they are currently using different nomenclatures.

It is in concurrence with international practice of calling medical shop selling medicines by name 'pharmacy.

The phrase 'chemists and druggists' was coined over seven decades ago in 1945 and has lost its relevance in the current scenario.

The word 'drug' is looked upon as more clandestine and as addiction to chemicals, and thus it's not suitable while referring to a professional pharmacist.

The change in nomenclature will give profession better recognition and provide identity and sense of value to practising pharmacist at the outlets.
Drugs Technical Advisory Board (DTAB)
It is highest statutory decision-making body on technical matters related to drugs in India. It is constituted as per Drugs and Cosmetics Act, 1940.

It is part of Central Drugs Standard Control Organization (CDSCO) in Ministry of Health and Family Welfare.

Composition:

Director General of Health Services is its ex officio Chairman.

Mandate

: To advise Central Government and State Governments on technical matters arising out the administration of Drugs and Cosmetics Act, 1940.