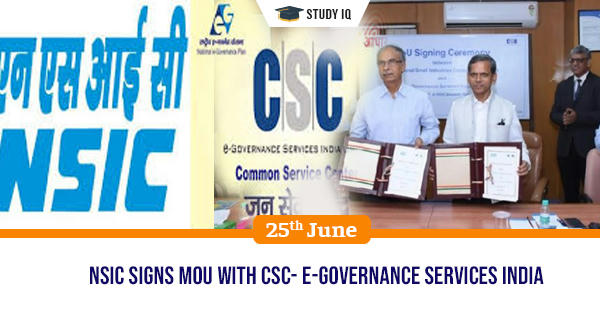 NSIC signs MoU with CSC- e-governance services India
Date: 25 June 2019
Tags: Ministries & Departments
National Small Industries Corporation (NSIC) has signed MoU with Common Service Centres (CSC) e-Governance Services India for enhancing new offerings for MSME sector by synergizing each other's competence. This MoU will also enable CSCs to utilize plethora of NSIC offerings through NSIC portal. Besides, CSCs will facilitate Village Level Entrepreneurs (VLEs) and MSMEs through digital empowerment in accessing NSIC integrated support services encompassing finance, marketing, technology, and other offerings.
About National Small Industries Corporation (NSIC)
It is ISO 9001-2015 certified Government of India (GoI) Enterprise under the Mini-Ratna Category.

It functions under Ministry of Micro, Small and Medium Enterprises (MSME). It was established in 1955.It is headquatered in New Delhi.

Mandate:

Promote, aid and foster growth of micro, small and medium enterprises (MSMEs) in the country.

Functions:

It facilitates MSMEs with set of specially tailored scheme to enhance their competitiveness. It provides integrated support services under marketing, technology, finance and other support service.