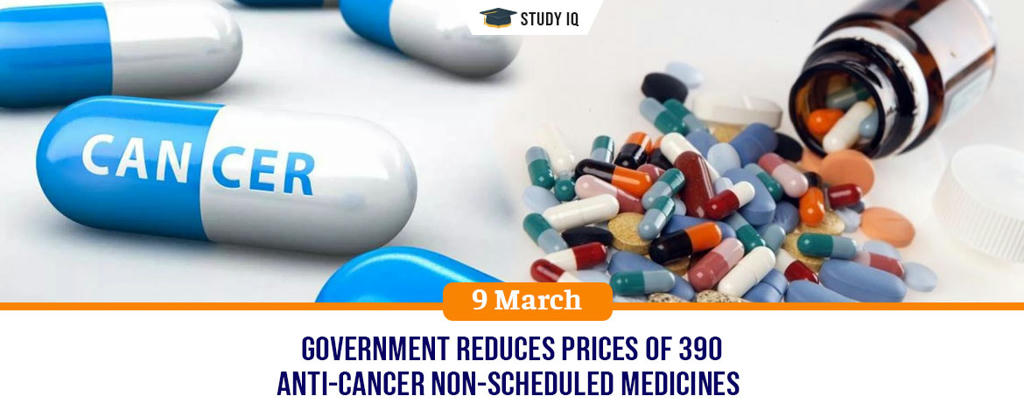 Government reduces prices of 390 anti-cancer non-scheduled medicines
Date: 09 March 2019
Tags: Ministries & Departments
National Pharmaceutical Pricing Authority (NPPA) has reduced prices of 390 anti-cancer non-scheduled medicines with MRP reduction up to 87%. The revised prices would come into effect from 8th March, 2019. Earlier in February, 2019, NPPA had put 42 anti-cancer drugs under 30% Trade Margin cap.
Background
Trade Margin rationalisation for 42 anti-cancer drugs was rolled out as Proof of Concept, stressing on new paradigm of self-regulation by industry. The manufacturers of these 42 drugs have been directed not to reduce production volumes of brands under regulation.
Benefits
This move is expected to benefit 22 lakh cancer patients in country and will result in annual savings of approx. Rs. 800 crores to consumers. The average out of pocket expenditure for cancer patients is 2.5 times that for other diseases.
About National Pharmaceutical Pricing Authority (NPPA)
It is independent regulatory body under Department of Pharmaceuticals, Union Ministry of Chemicals and Fertilizers.
It was set up in 1997. It is headquartered in New Delhi.
Mandate: (i) Fix/revise controlled bulk drugs prices and formulations placed in National List of Essential Medicines (NLEM) under Schedule-I of DPCO. (ii) Enforce prices and availability of medicines under DPCO, 2013. (iii) Monitor prices of decontrolled drugs in order to keep them at reasonable levels. (iv) Implements and enforces provisions of DPCO. (v) Recover amounts overcharged by manufacturers for controlled drugs from consumers.
So far, around 1,000 drugs have been brought under price control under initiative. Non-scheduled drugs are allowed an increase of up to 10% in prices every year, which is monitored by the NPPA.
What are scheduled medicines/drugs?
Government under Drugs and Cosmetics Rules, 1945 (notified under The Drugs and Cosmetics Act, 1940) classifies drugs under given schedules. Based on these classifications there are guidelines for storage, sale, display and prescription of each drug under each schedule. Scheduled drugs have addictive properties and are classified in to different schedules ranging from lowest potential of abuse to being highest.
Scheduled drug have restrictions that are different from nonscheduled drugs such as quantity it can be dispensed at one time, limited number of refills or no refills at all, shorter time frame prescription, mandatory for presenting prescriptions to pharmacy and limitation on ability to transfer prescription to another pharmacy.