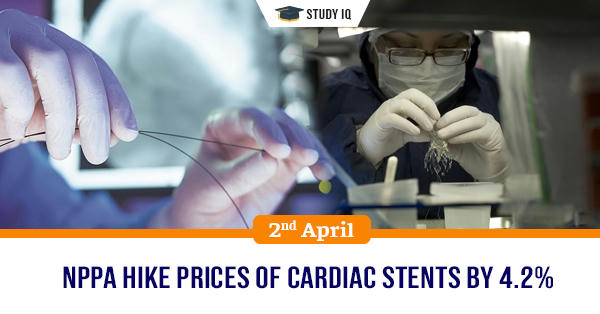 NPPA hike prices of cardiac stents by 4.2%
Date: 02 April 2019
Tags: Ministries & Departments
Drug price regulator National Pharmaceutical Pricing Authority (NPPA) has approved hike in prices of cardiac stents by 4.2%. This decision was taken in-line with the wholesale price index (WPI) of the previous calendar year 2018 over 2017. As per the new prices, bare metal stent (BMS) would now cost Rs 8,261, while the drug eluting stent (DES) will cost Rs 30,080.
Background
NPPA for first time had brought life-saving coronary stents into price regulatory (capping) mechanism in February 2017 after it had capped their prices by up to 85% to give major relief to lakhs of cardiac patients. Prior to price capping, BMS used to cost as much as Rs 45,000 and DES Rs 1.21 lakh.
Coronary stent
It is a tube-shaped mediacal device placed in coronary arteries that supply blood to the heart. It keeps the arteries open in the treatment of coronary heart diseases.

Bare-metal stent:

It is mesh-like tube of thin wire used in cardiac arteries. It is made of bare metal of 316L stainless steel. More recent stents of this type use cobalt chromium alloy.

Drug-eluting stents:

It slowly releases drug to block cell proliferation after it is placed into narrowed, diseased peripheral or coronary arteries.

It is preferred over bare-metal stents as latter can cause restenosis i.e. result in growth of tissue into stent further narrowing blood vessel.
National Pharmaceutical Pricing Authority (NPPA)
It is apex independent regulatory body that controls and regulatory the prices of pharmaceutical drugs in India and ensures availability and accessibility of medicines at affordable prices.

It functions under Department of Pharmaceuticals, Union Ministry of Chemicals and Fertilizers. It was set up in 1997 and is headquartered in New Delhi.

It advices Central Government in matters related to drug policies and pricing and revisions/changes in drug policy. It also monitors availability of drugs, identify shortages, if any, and to take remedial steps.

Mandate:

(i) Fix/revise controlled bulk drugs prices and formulations placed in National List of Essential Medicines (NLEM) under Schedule-I of The Drug (Prices Control) Order 2013 (DPCO) (ii) Enforce prices and availability of medicines under DPCO, 2013. (iii) Monitor prices of decontrolled drugs in order to keep them at reasonable levels. (iv) Implements and enforces provisions of DPCO. (v) Recover amounts overcharged by manufacturers for controlled drugs from consumers. (vi) Publish lists of medicines and their maximum ceiling prices.