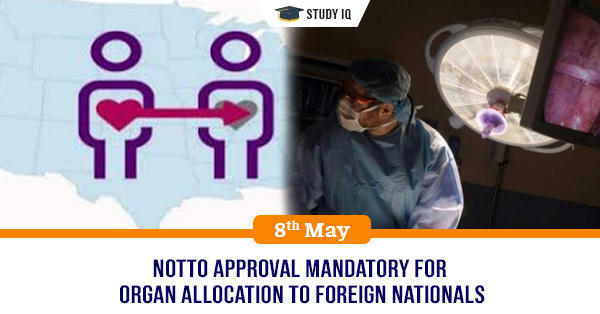 NOTTO approval mandatory for organ allocation to foreign nationals
Date: 08 May 2019
Tags: Ministries & Departments
National Organ & Tissue Transplant Organisation (NOTTO) has issued guideline mandating its approval for allocation of organs to foreigner nations. It was issued in cognizance with media reports which had stated that foreign nationals were getting organs ahead of Indian nationals on the waiting list. Transplant Authority of Tamil Nadu (Transtan) became first to implement this guideline.
National Organ & Tissue Transplant Organisation (NOTTO)
It is nodal national level body that coordinates with states on procurement and distribution of organs in compliance with the Transplantation of Human Organs Act (THOA), 1994. It has been set up under Directorate General of Health Services, Union Ministry of Health and Family Welfare.

It functions as apex centre for all India activities of coordination and networking for procurement and distribution of Organs and Tissues and registry of Organs and Tissues Donation and Transplantation in the country.

It has two divisions under it viz. National Human Organ and Tissue Removal and Storage Network and National Biomaterial Centre.

Key Functions of NOTTO:

(i) Lay down policy guidelines and protocols for various functions. (ii) Network with similar regional and state level organizations. (iii) Compile and publish all registry data from States and Regions would. (iv) create awareness, about promotion of organ donation and transplantation activities. (vi) co-ordinates from procurement of organs and tissues to transplantation when organ is allocated outside region. (vii) disseminates information about all concerned organizations, hospitals and individuals. (viii) monitors working of transplantation activities in regions and states and maintain data-bank in this regard. (ix) Assist data management for organ transplant surveillance and organ transplant & organ Donor registry. (x) Provide consultancy support on t legal and non-legal aspects of donation and transplantation.
Note: Since health is State subject, through NOTTO, Central Government provides support to States under National Organ Transplant Programme to set up Regional Organ and Tissue Transplant Organizations/State Organ and Tissue Transplant Organizations.