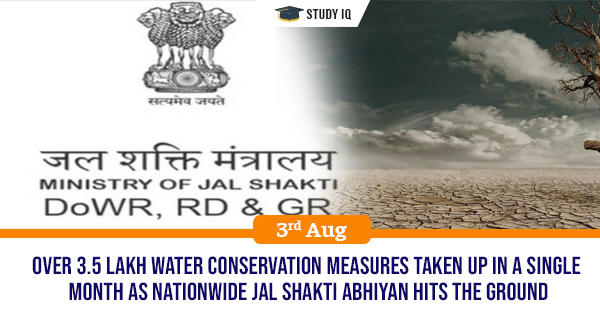 Over 3.5 lakh Water Conservation Measures taken up in a single month as nationwide Jal Shakti Abhiyan hits the ground
Date: 03 August 2019
Tags: Ministries & Departments
Context: In a countrywide effort to enhance water security, especially in water stressed districts, the Centre initiated Jal Shakti Abhiyan (JSA) has delivered over 3.5 lakh water conservation measures in 256 districts.
Highlights of the outcome of the 1st phase of the JSA:
Of all the measures taken, 1.54 lakh are of water conservation and rain water harvesting measures, 20000 relate to the rejuvenation of traditional water bodies, over 65000 are reuse and recharge structures and 1.23 lakh are watershed development projects.
An estimated 2.64 crore people have already participated in the Abhiyan making it a Jan Andolan
About 4.25 crore saplings were planted as a part of the efforts.
Workshop with Aamir Khan and Kiran Rao, Founders, Paani Foundation: The workshop also had presentations by prominent NGOs working in the area of water conservation, deploying successful interventions, innovations and strategies.Shri Aamir Khan, renowned actor and the founder of Paani Foundation, showcased encouraging films about grass-root level stories in Maharashtra, where lives have been impacted by the Foundation's mobilization efforts in respective villages. He emphasized upon the need of educating people at village-level about the importance of saving water, showing them effective ways and techniques and how they can play a leading role in taking the initiatives forward.
About the JSA:
The JSA is a collaborative effort of various Ministries of the Centre and State Governments, and is primarily a Jal Sanchay campaign, which has gained phenomenal momentum in this past one month.