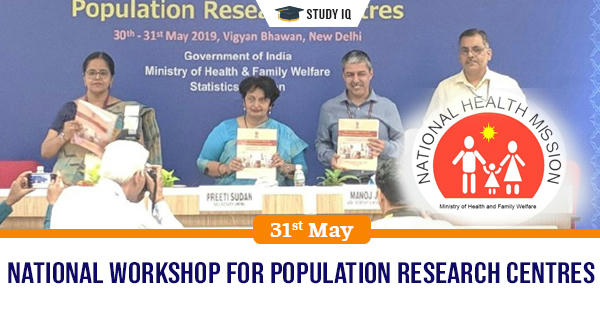 National workshop for Population Research Centres
Date: 31 May 2019
Tags: Ministries & Departments
Union Ministry of Health and Family Welfare (MoHFW) has organized two-day workshop for Population Research Centres (PRCs) in New Delhi to highlight various features off its fagship schemes for concurrent management.
About Population Research Centres (PRCs)
PRCs are mandate to provide critical research based inputs related to Health and Family Welfare programs and policies at the national and state levels.

They are autonomous in nature and administratively under the control of their host University/Institutions.

PRC scheme was started by MoHFW in 1958 with establishment of 2 PRCs at Delhi and Kerala. Now it has established network of 18 PRCs spread over 17 major States/UTs. Of these, 12 are attached to various Universities and 6 are in research institutions of national repute.
Functions of PRCs
Undertake research projects related to family planning, demographic research and biological studies and qualitative aspect of population control

Provide gainful feedback from these research studies for plan formulation, strategies and policy interventions of ongoing schemes.

Participate in large scale sample surveys of MoHFW like National Family Health Survey (NFHS), District Level Household survey (DLHS) and Longitudinal Ageing Study in India (LASI), All India study on "Rapid Appraisal of National Rural Health Mission (NRHM).

Monitor important components of NHM Programme Implementation Plans.
Achievements
Till date PRCs have completed more than 3600 research studies since inception. They also have published more than 110 research papers in prestigious international journals