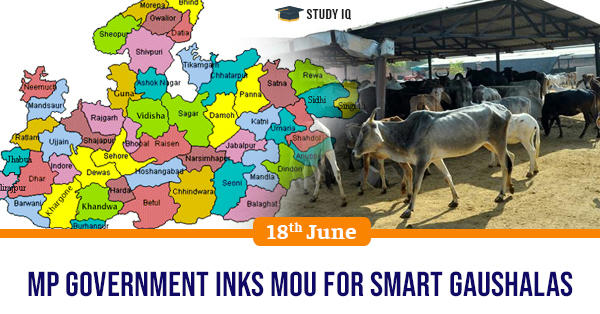 MP Government inks MoU for Smart Gaushalas
Date: 18 June 2019
Tags: Ministries & Departments
Madhya Pradesh Government has signed Memorandum of Understanding (MoU) with foreign company to build 300 Smart Gaushalas in the state. Under this agreement, the company will be setting up 300 smart gaushalas across the state over the next 5 years. The smart gaushalas are expected to address the menace of stray cattle menace on streets and in markets.
About Smart Gaushalas
State Government will be providing 50 acres of land to company for each proposed "Smart Gaushala" and it will be spending Rs 11 crore on each of them.

This will not result in any financial burden on state government and the company will borne the whole expenses by monetizing gaushalas by exporting items made from gaumutra (cow's urine), gobar (cowdung) and the stiff hairs on cow's tail.

The company will also be paying money to people who bring stray cattle to the "smart gaushalas". It is also planning to grow fodder and generate electricity.

In the first phase, state government will provide land to build five smart gaushalas near Bhopal, and will allot land for the remaining gaushalas later.

If company stops running gaushala, land allocated to it will be automatically return to the state government.