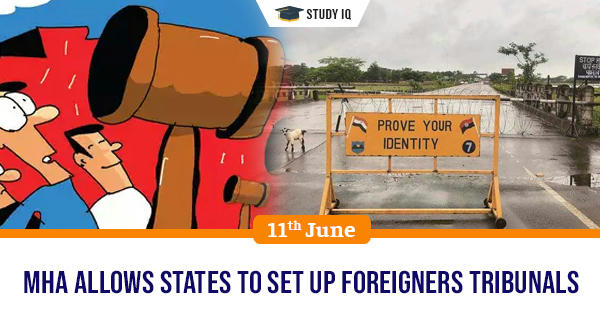 MHA allows states to set up Foreigners Tribunals
Date: 11 June 2019
Tags: Ministries & Departments
The Union Ministry of Home Affairs (MHA) empowered district magistrates in all States and Union Territories to set up Foreigners Tribunals (FTs) to decide whether a person staying illegally in India is a foreigner or not. In this regard, it has amended the Foreigners (Tribunals) Order, 1964 by the Foreigners (Tribunal) Order, 2019. The power to constitute tribunal earlier was vested only with the central government.
Other Changes to the Foreigner Tribunal Order
It allows all states to constitute their own FTs, earlier unique to Assam, to address the question of citizenship of a person.

It empowers district magistrates in all states and union territories to set up FTs to detect foreigners.

It empowers individuals to approach Tribunals if he/she doesn't find their name in the final list. Earlier only State administration was only allowed move FTs against suspect.

District Magistrates can also refer individuals to FT who haven't filed claims against their exclusion from NRC to the Tribunals to decide if they are foreigners or not.
Foreigners Tribunals
They are quasi-judicial bodies, unique to Assam, to determine if person staying illegally is "foreigner" or not. Recently, MHA sanctioned around 1,000 Tribunals to be set up in Assam in the wake of publication of the final NRC by July 31, 2019. In other parts of the country, once a 'foreigner' has been apprehended by police for staying illegally, he or she is produced before local court under Passport Act, 1920 or Foreigners Act, 1946, with punishment ranging from imprisonment of three months to eight years. Once accused completes the sentence, the court orders their deportation, and they are moved to detention centres till the country of origin accepts them.