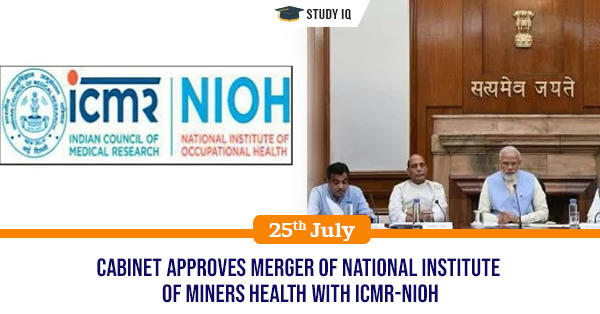 Cabinet approves merger of National Institute of Miners Health with ICMR-NIOH
Date: 25 July 2019
Tags: Ministries & Departments
Union Cabinet chaired by Prime Minister Narendra Modi has approved merger/amalgamation of National Institute of Miners' Health (NIMH) with ICMR-National Institute of Occupational Health (NIOH), Ahmedabad. With this merger, all assets and liabilities of NIMH will be transferred to NIOH. The merger / amalgamation of NIMH with NIOH seeks to benefit both Institutes in term of enhanced expertise in the field of occupational health. Besides it will also help in efficient management of public money.
About National Institute of Miners' Health (NIMH)
It was an autonomous Institute under Ministry of Mines (MoM) established by Central Government in 1990. It was registered as a Society underKarnataka Societies Registration Act, 1960.

Its registered office is located at Kolar Gold Fields, Karnataka and the Central Laboratory in Nagpur.

Mandate:

It conducts applied research in occupational health and hygiene. It specializes in providing technical support services to mining and mineral based industry with special reference to metalliferous sector. It endeavors for safe mines and healthy miners through R&D.
About ICMR-National Institute of Occupational Health (NIOH)
It is premier institute aimed at promotion and maintenance of highest degree of physical, mental and social well being of workers in all occupations. It is based in Ahmedabad, Gujarat.
It functions under the aegis of Indian Council of Medical Research (ICMR) under Department of Health Research, Union Ministry of Health and Family Welfare.
Mandate: (i) Promote intensive research to evaluate environmental stresses/factors at the workplace. (ii) Promote highest quality of occupational health through fundamental and applied research. (iii) Develop control technologies and health programmes through basic and fundamental research and to generate human resources in the field.