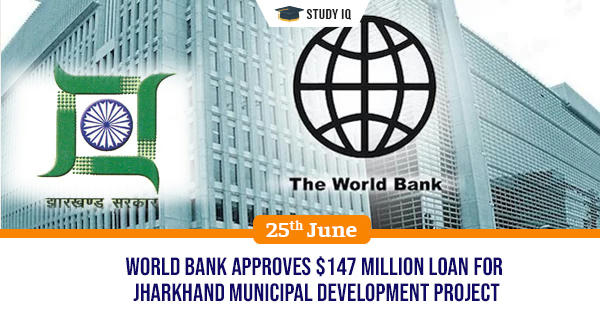 World Bank approves $147 Million Loan for Jharkhand Municipal Development Project
Date: 25 June 2019
Tags: Ministries & Departments
Union Government (Finance Ministry), Jharkhand Government Government has singed Loan Agreement with World Bank to avail US $147 millionloan for Jharkhand Municipal Development Project. This loan will be from the International Bank for Reconstruction and Development (IBRD) and has 7-year grace period, and final maturity of 22.5 years.
Jharkhand Municipal Development Project
It aims at improving municipal sector's capacity to provide basic urban services. It aims to help improve the management capacity of the urban local bodies (ULBs) in the State to provide basic urban services to the people. It focuses on closing the gap on access to basic services and at the same time build capacity of its institutions to better manage and provide services effectively.
The loan proceeds from World Bank for this project will be invested in urban services such as water supply, sewerage, drainage, and urban roads. It will be also used to strengthen capacity of Jharkhand Urban Infrastructure Development Company (JUIDCO) as well as that of ULBs to carry out reforms in the areas of urban finance and governance.