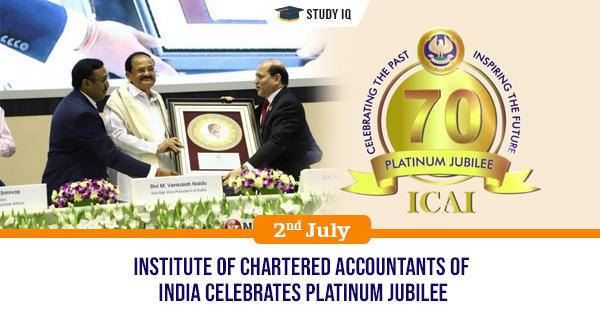 Institute of Chartered Accountants of India celebrates Platinum Jubilee
Date: 02 July 2019
Tags: Ministries & Departments
The Institute of Chartered Accountants of India (ICAI) celebrated its platinum jubilee (70 years) on 1 July 2019. Besides, 70th Chartered Accountants Day was also celebrated on this day to mark establishment of ICAI in 1949. The main function to mark this event was inaugurated by Vice-President of India M. Venkaiah Naidu in New Delhi. It was attended by over 1200 CA Members and stakeholders.
About Institute of Chartered Accountants of India
It is the national professional accounting body of India. It the second largest professional Accounting and Finance body in the world.

It is a statutory body established by an Act of Parliament-The Chartered Accountants Act, 1949 to regulates profession of Chartered Accountancy in India.

It is the only licensing cum regulating body of accountancy profession and financial audit in India.

It was established on 1 July 1949. It functions under administrative control of Union Ministry of Corporate Affairs. It is headquartered in New Delhi.

Structure:

Its affairs are managed by Council consisting of 40 members of whom 32 are elected by Chartered Accountants and remaining 8 are nominated by Central Government generally representing CAG, SEBI, Ministry of Corporate Affairs, Ministry of Finance and other stakeholders.

Functions:

(i) Regulate profession of Accountancy, (ii) Education and Examination of Chartered Accountancy Course (iii) Formulation of Accounting Standards (iv) Prescription of Standard Auditing Procedures (v) Laying down Ethical Standards (vi) Ensuring Standards of performance of Members (vii) Exercise Disciplinary Jurisdiction (viii) Financial Reporting Review and (ix) Input on Policy matters to Government etc.