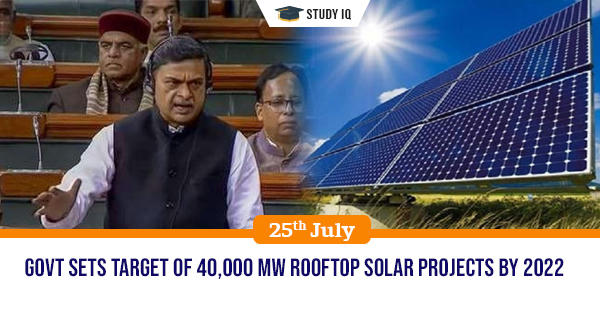 Govt sets target of 40,000 MW Rooftop Solar projects by 2022
Date: 25 July 2019
Tags: Ministries & Departments
Union Government has set ambitious target for the installation of Rooftop Solar projects (RTS) of 40,000 MegaWatt (MW) by 2022 in the country including installation of RTS on rooftop of houses. It was announced by Union Minister of State (I/C) for New and Renewable Energy RK Singh in a written reply to Rajya Sabha.
Government's Date
The total rooftop solar installations in India is 1700.54 MW. It is estimated that on an average 1.5 million units per MegaWatt per year are generated from solar rooftop plants.

Top States:

Gujarat ranks first in the country with total 261.97 megawatts (MW) of installed rooftop solar capacity (as of July 2019).

Maharashtra (198.52 MW) and Tamil Nadu (151.62 MW) ranks second and third respectively in terms of installed rooftop solar capacity.

Financial Assistance: Union G

overnment has provided total financial assistance or incentives of Rs 678.01 crore in fiscal 2016-17, Rs 169.73 crore for fiscal 2017-18 and Rs 446.77 crore in fiscal 2018-19 under Grid-Connected Rooftop Solar programme.