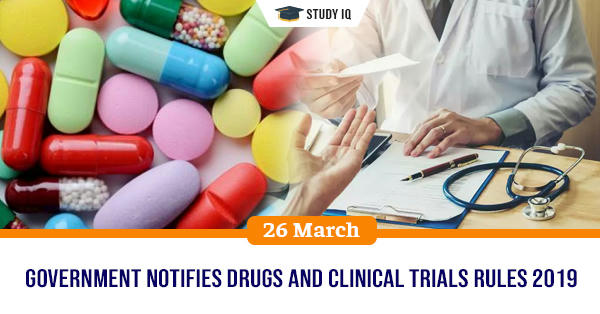 Government notifies Drugs and Clinical Trials Rules 2019
Date: 26 March 2019
Tags: Ministries & Departments
Union Ministry of Health and Family Welfare has notified Drugs and Clinical Trials Rules, 2019 with aim to promote clinical research in the country. The new rules are aimed at changing regulatory landscape for approval of new drugs and conduct of clinical trials in the country.
Drugs and Clinical Trials Rules, 2019
It will apply to clinical trial, bio-equivalence or bio-availability study, new drugs and regulation of ethics committee relating to clinical trial and biomedical health research.

It aims to promote clinical research in India, have predictable, transparent and effective regulations for such trials and also make faster accessibility of new drugs to Indian population.

It reduces time for approving applications to 30 days for drugs manufactured in India and 90 days for those developed outside the country.

It also states that in case of no communication from Drugs Controller General of India (DCGI) with 30 days, then application will be deemed to have been approved.

It has done away with formality of conducting local trials so that the drugs can be introduced in Indian markets sooner.

It waives off requirement of local clinical trials for drugs approved and marketed in any of countries to be specified by DCGI with the approval of the government.

It ensures patient safety, as they will be enlisted for trials with informed consent.

It empowers ethics committee to monitor trials and decide on the amount of compensation in cases of adverse events.

In case of injury to clinical trial subject, medical management will be provided as long as required as per opinion of the investigator or till such time it is established that injury is not related to the clinical trial.

It empowers DCGI to decide compensation in cases of death and permanent disability or other injury to a trial subject.
Drugs Controller General of India (DCGI)
It functions under Central Drugs Standard Control Organization (CDSCO), Directorate General of Health Services, Ministry of Health & Family Welfare.

Functions:

It is responsible for approval of licenses of specified categories of drugs such as blood and blood products, vaccines, IV fluids and sera in India.

It lays down standards and quality of manufacturing, distribution, selling and import of drugs in India.

It prepares and maintains national reference standard. It brings about uniformity in enforcement of Drugs and Cosmetics Act.

It analyses Cosmetics received as survey samples from CDSCO. It acts as appellate authority in case of any dispute regarding quality of drugs.