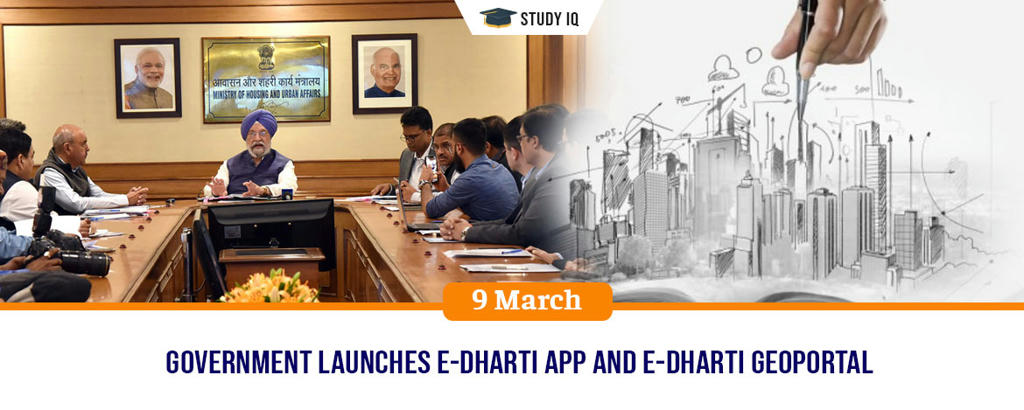 Government launches e-Dharti app and e-Dharti GeoPortal
Date: 09 March 2019
Tags: Ministries & Departments
Union Ministry of Housing and Urban Affairs (MoUHA) has launched the e-Dharti app and e-Dharti GeoPortal to help citizens in getting necessary information and government to effectively manage its properties online. Both apps will help in making all property related matters more public friendly, efficient, accountable and transparent.
e-Dharti app
It has made all the three modules related to properties viz. Conversion, Substitution and Mutation online. They are under jurisdiction of Land and Development Office (L&DO).

It also completely digitized all payment system of L&DO. It will allow citizens to submit their applications online by visiting L&DO website and avoid visiting office for submission of their applications and for further follow up.

It will soon have other features for other three small modules namely Mortgage Permission, Sale Permission and Gift Permission.
L&DO: It deals with public applications which are mainly related to conversion of property from leasehold to freehold, substitution of names of legal heirs and mutation in the name of purchaser, etc. These three applications cover almost 95% of total applications received.
e-Dharti GeoPortal
It is GIS based mapping of all its approx 65000 properties of L&DO.

It maps each and every Government property under L&DO, whether it is allotted or still lying vacant.

It will allow Lessee of the property to see the basic details of his/her property along with map showing its location.

It will also issue lessee Property Card from L&DO office about his property if he asks for it.

It will also benefit the government by letting it know the actual status of its vacant properties, whether there is any encroachment on the property.