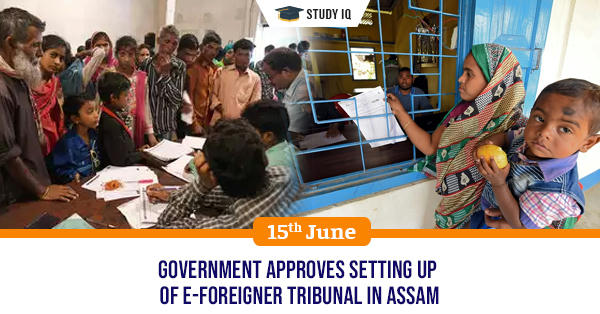 Government approves setting up of e-Foreigner Tribunal in Assam
Date: 15 June 2019
Tags: Ministries & Departments
Union Government has approved setting up of e-Foreigner Tribunal (e-FT) in Assam. The proposed integrated e-FT IT system will be implemented across the state for effective monitoring and resolution of cases registered with Foreigner Tribunal.
About e-Foreigner Tribunal (e-FT)
Functions:

it will maintain state wide bio-metric and biographic data, capture illegal migrants' data to computerize data flow for all stakeholders and legalize eligible beneficiaries for welfare schemes.

CEO of e-FT Mission:

IPS officer Anand Prakash Tiwari.

Significance:

The new IT system will help in strengthening judiciary in disposal of cases and police organization in faster detection, prosecution and detention of illegal migrants. This will enhance the transparency of case disposal process.
About Foreigners Tribunals
They are quasi-judicial bodies, unique to Assam, to determine if person staying illegally is "foreigner" or not. They are established under Foreigners (Tribunal) Order, 1964 which inturn has been enacted by central Government in exercise of the powers conferred by Section 3 of the Foreigners Act, 1946. Recently, MHA sanctioned around 1,000 Foreigners Tribunals to be set up in Assam in the wake of publication of the final National Register of Citizens of India (NRC) by July 31, 2019.
Note: In other parts of the country, once 'foreigner' has been apprehended by police for staying illegally, he or she is produced before local court under Passport Act, 1920 or Foreigners Act, 1946, with punishment ranging from imprisonment of three months to eight years. Once accused completes the sentence, the court orders their deportation, and they are moved to detention centres till the country of origin accepts them. Recently, Union Ministry of Home Affairs (MHA) has amended the Foreigners (Tribunals) Order, 1964 by the Foreigners (Tribunal) Order, 2019 to allow district magistrates in all States and Union Territories to set up Foreigners Tribunals (FTs) to decide whether a person staying illegally in India is a foreigner or not.