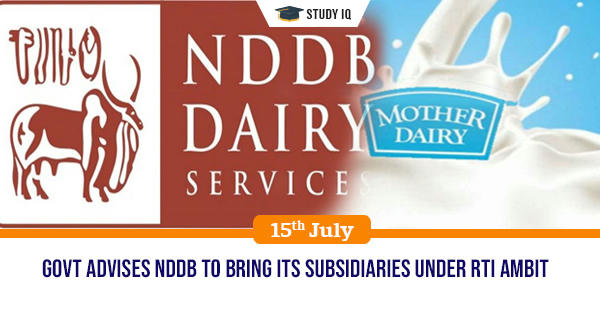 Govt advises NDDB to bring its subsidiaries under RTI ambit
Date: 15 July 2019
Tags: Ministries & Departments
Union Ministry of Animal Husbandry, Dairying and Fisheries notified Parliament that it has advised National Dairy Development Board (NDDB) to extend provisions of the RTI Act, 2005 to its subsidiary companies including NDDB Dairy Services and Mother Dairy Fruits and Vegetables Pvt. Ltd (MDFVPL) among others. This move aims at ushering higher standards of transparency and accountability and trust of consumers.
Background
Central Information Commission (CIC) in its 2011 order had given judgment that MDFVPL is public authority under clause (i) of Section 2(h) of RTI Act and it should appoint CPIO and the Appellate Authority as per the mandate of the RTI Act. Later on, Delhi High Court also had upheld this order of CIC. According to Department of Legal Affairs, Mother Dairy qualifies in semi-government, if not a fully government, as all of its shareholding is government-owned.
About National Dairy Development Board (NDDB)
It is an Institution of National Importance set up by an Act of Parliament of India. It was founded by Dr. Verghese Kurien in 1965. It is headquartered in Anand, Gujarat.

It was created to promote, finance and support producer-owned and controlled organisations.

Its programmes and activities seek to strengthen farmer cooperatives and support national policies that are favourable to growth of such institutions.

NDDB's subsidiaries:

IDMC Limited-Anand, Mother Dairy, Delhi, NDDB Dairy Services, Delhi and Indian Immunologicals Ltd, Hyderabad.