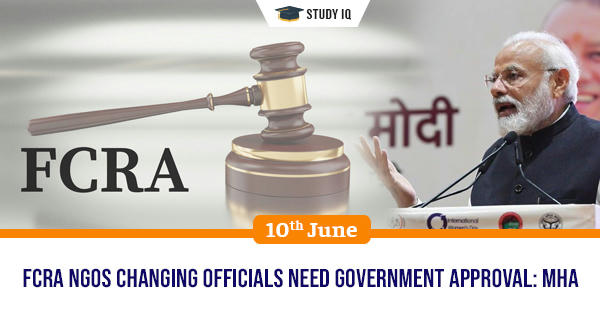 FCRA NGOs changing officials need government approval: MHA
Date: 10 June 2019
Tags: Bills & Laws, Ministries & Departments
Union Ministry of Home Affairs (MHA) has issued notification warning of taking penal action against Non-Governmental Organisations (NGOs) who have changed office bearers without taking its approval. The notification was issued after few incidents had come to light in which NGOs registered under Foreign Contribution Regulation Act (FCRA), have changed their office bearers without Home Ministry's approval.
Home Ministry Notification
Replacement of key functionaries of FCRA registered organizations without prior permission is a violation of the law.

It is mandatory for NGOs to submit applications for addition or deletion or any change of details about office bearers within one month from the date of issue of notice.
Foreign Contribution Regulations Act (FCRA)
It regulates all grants, gifts and donations from abroad. It is used to regulate foreign contribution (especially monetary donation) provided by certain individuals or associations to NGOs and others within India. The Act was originally passed in 1976 and majorly modified in 2010.
The Foreign Contribution (Regulation) Act, 2010 has come into effect from May 2011. Government (Home Minsitry) has used this law over the years to freeze bank accounts of certain NGOs who it found were affecting India's national interest for wrong purposes.
The 2010 amendments to this act has brought out three main changes viz. (i) FCRA registration will expire after 5 years and has to be renewed afresh, unlike earlier where it was permanent. (ii) It puts restriction (50%) on proportion of foreign funds that could be used for administrative expenses, thus controls spending of money by civil society. (iii) It shifted focus from only political parties to organisations of a political nature. It empowered government to target inconvenient NGOs especially those affecting India's national interest for wrong purposes.